Add to Wish List
Platform
Steam
Region
Worldwide
Release Date
13 / 5 / 2016
Language
Genre
Action, FPS, Sci-fi, Shooter
Edition
Standard
Platform
PC (WW)
Delivery
Instant Delivery
Demon Multiplayer Pack DLC Available here

Get your instant download with CDKeys.com
This product includes DOOM PC.
The top 3 reasons to play DOOM PC
Combine your arsenal of futuristic and iconic guns, upgrades, movement, and an advanced melee system to knock-down, slash, stomp, crush, and blow apart demons in creative and violent ways.

Dominate your opponents in DOOM's signature, fast-paced arena-style combat.

DOOM SnapMap – a powerful, but easy-to-use game and level editor – allows for limitless gameplay experiences on every platform.
About DOOM PC
Developed by id Software, the studio that pioneered the first-person shooter genre and created multiplayer Deathmatch, DOOM returns as a brutally fun and challenging modern-day shooter experience.

Relentless demons, impossibly destructive guns, and fast, fluid movement provide the foundation for intense, first-person combat – whether you're obliterating demon hordes through the depths of Hell in the single-player campaign, or competing against your friends in numerous multiplayer modes

Expand your gameplay experience using DOOM SnapMap game editor to easily create, play, and share your content with the world.
Read more
What are the system requirements?
MINIMUM
OS

Windows 7/8.1/10

Processor

Intel Core i5-2400/AMD FX-8320 or better

Memory

8 GB RAM

Graphics

NVIDIA GTX 670 2GB/AMD Radeon HD 7870 2GB or better

Storage

55 GB available space
RECOMMENDED
OS

Windows 7/8.1/10 (64-bit versions)

Processor

Intel Core i7-3770/AMD FX-8350 or better

Memory

8 GB RAM

Graphics

NVIDIA GTX 970 4GB/AMD Radeon R9 290 4GB or better

Storage

55 GB available space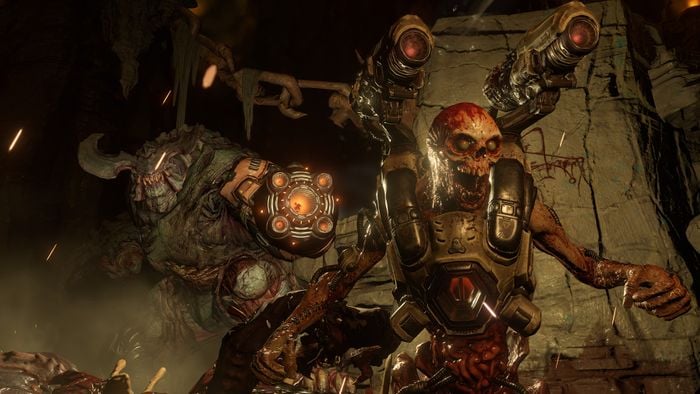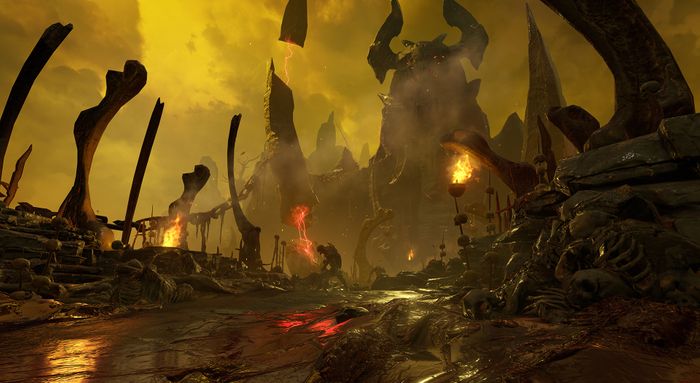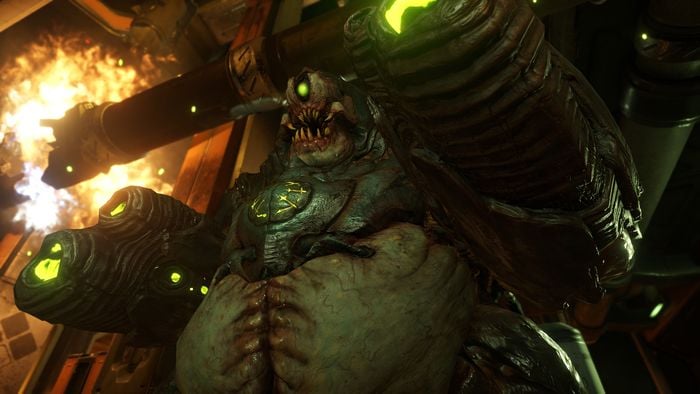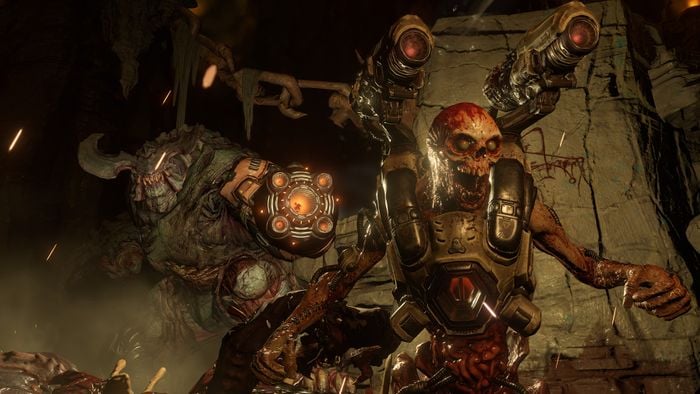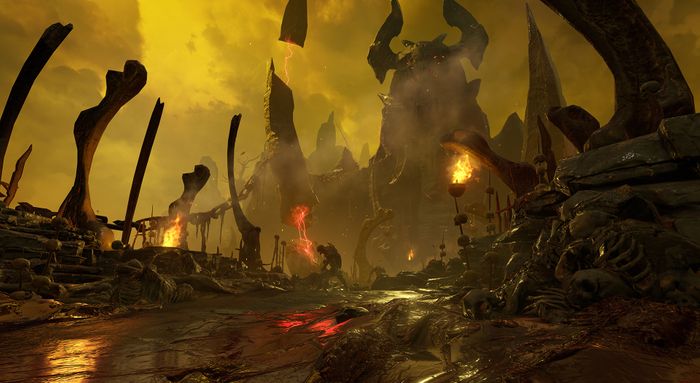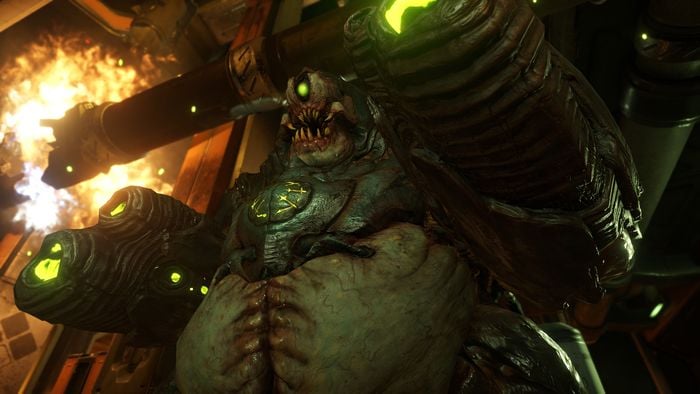 BEST GAME I'VE EVER HAD.

Yes, you heard that right. I've been a fan of fighting games since i was a child. And this is the best fighting game I've ever played. been playing tekken, which is 90/100 for me. The only downside of that is the online mode. So, anyway. if you are still reading this review. Do your self a favor and buy it. Everything is good.
✓ soundtrack
✓gameplay
✓demons
✓amazing cutscenes
✓great AI
✓ boss fight
✓and of course doom guy

The Cons

"what I didn't like?"
*doom music kicks in intensifies*

Its DOOM

DOOM , great music, amazing gameplay, everyone should play it, its a great game and runs perfectly.

Amazing FPS

I am one of those people who not only enjoys a fast paced gory FPS but also pay a lot of attention to the storyline, and I have to say, this game hits the mark. Amazing graphics. The controls are extremely easy to adapt to and if you're already familiar with FPS you'll definitely feel at home with this one. The story is awesome and it leaves you wanting more at the end. Overall one of my favorite games of this genre right along side with Wolfenstein: TNO and Wolfenstein: NC.

The Pros

Fast Paced
Great Storyline
Amazing Graphics
Awesome Weapons

The Cons

Storyline could be a bit longer but that's it

Bethesda nailed it

Oh my word this game is so freaking good! Best soundtrack you'll ever hear in a video game, the rip and tear is just therapeutic, and the storyline is just phenomenal. Can't wait to play through Doom Eternal.

Doom

Soundtrack, Bossfights, weapon variety, upgrades, Story.Everything is perfect and definitely stood its name to the old versions

A Lot Of Fun

I was shocked how much fun this game was. It was a riot to run and gun like the old days, all while doing it to a sweet metal soundtrack

The Pros

Run and gun
Graphics
Story

My Review

I liked the gameplay and I am very happy with how I was able to get this good game cheaper on here and I was able to have fun.

The Pros

It's original gameplay not based off of any other version like the eternal version was.

My review

The game overall was fun i enjoyed it quite a bit some of the glory kills got repetitive but its not to bad if u play the game it bits theres about 8 hours play in story

The Pros

Fun game mid length story

The Cons

multiplayer is slow and boring

Rip and Tear

easily the one of the best fps of the all time, ID's "reboots" I feel have set a new standard for 2010's FPS's and beyond. I feel this is only toped by Ultimate Doom and Eternal. In conclusion full price for this game is well worth it let alone how cheap it is on this website and for sale on steam right now due to Quakecon.
Activate with Steam:


Download and install the Steam client on your PC.
Open the Steam client, login and locate the Games tab on the top menu. Click this and then select "Activate a Product on Steam…"

Enter your unique code that's displayed on the 'Orders' page of CDKeys.com and follow the prompts to activate.

Your game is now viewable in the "Library" tab and is available to download/install when you're ready.
You can find additional support for the Steam client here: https://help.steampowered.com/en/wizard/HelpWithSteam
Special Price
$5.49
RRP
$20.69