Monster Hunter World Iceborne Xbox One (UK)
Add to Wish List
Platform
Xbox Live
Region
UK
Delivery
Instant Delivery
Developer
CAPCOM Co., Ltd.
Release Date
6 / 9 / 2019
-6%

-44%

-69%

-39%

-61%

-62%

-43%

-51%

-34%

-60%
Get your instant download with CDKeys.com
This product includes Monster Hunter World: Iceborne. Base game required.
The top 3 reasons to play Monster Hunter World: Iceborne
Discover a completely unexplored region teeming with treacherous biomes, vicious beasts, and a strange mystery at the heart of it all.

While Hoarfrost Reach might be brutal and inhospitable to most, the frigid environment is plenty comfortable for the unique lifeforms that have made their home here.

In addition to the difficulty-raising Master Rank, Iceborne adds a long list of vicious new foes to face. More details below!
About Monster Hunter World: Iceborne
The base game "Monster Hunter: World," sold separately, is required in order to play this content.
Let your hunting instinct take you further than ever! "Iceborne" is a massive expansion that picks up after the ending of Monster Hunter: World and opens up the new "master rank!"
New quests, monsters, weapons, armor, and story await to take your hunting to the next level!
All-new Hunting Mechanics - All 14 weapon types have new moves and combos. Each weapon has more unique actions than ever before. Every weapon now lets you use the clutch claw, a new function of the slinger, to grapple onto monsters. You'll drain your stamina while clinging onto monsters, but it opens up various new ways of controlling their movement!
New Quest Difficulty: Master Rank! - On top of low rank and high rank, there is now a new quest difficulty called "master rank."
Master rank quests will become available once you purchase the Iceborne expansion. You'll be able to earn new materials and fight even stronger monsters on these quests!
New Locale: Hoarfrost Reach - An unknown environment, yet to be discovered by mankind. Hoarfrost Reach has plenty of unique endemic life and monsters that could only exist in such a harsh climate. It has diverse geographical features as well, from deep stretches of snow that impede your movement to relaxing hot springs, and even unstable ground that could collapse at any moment! The visual effects are some of the most detailed the Monster Hunter series has ever seen!
Various New Monsters! - Hoarfrost Reach is home to many new endemic creatures and monsters, such as the snow-swimming Beotodus, the raging Banbaro, and the mysterious elder dragon Velkhana.
But changes are afoot in familiar locales as well! Keep an eye out for new tracks of fan favorite monsters, such as Tigrex and Nargacuga!
Read more
What are the system requirements?
Monster Hunter: World base game for Xbox One
Xbox Live account
Internet connection for activation and online features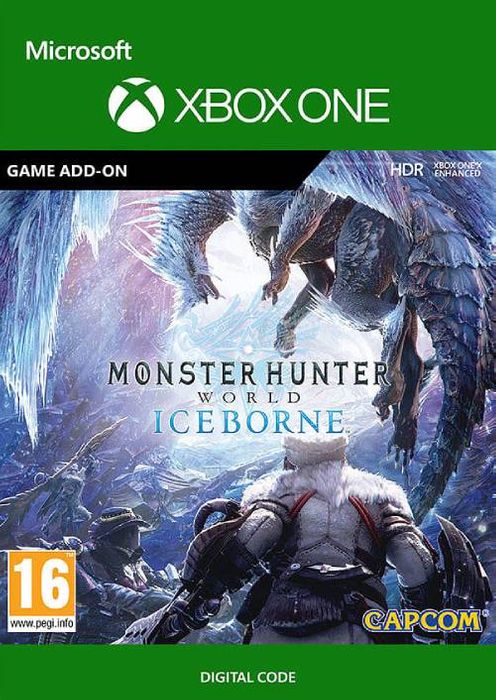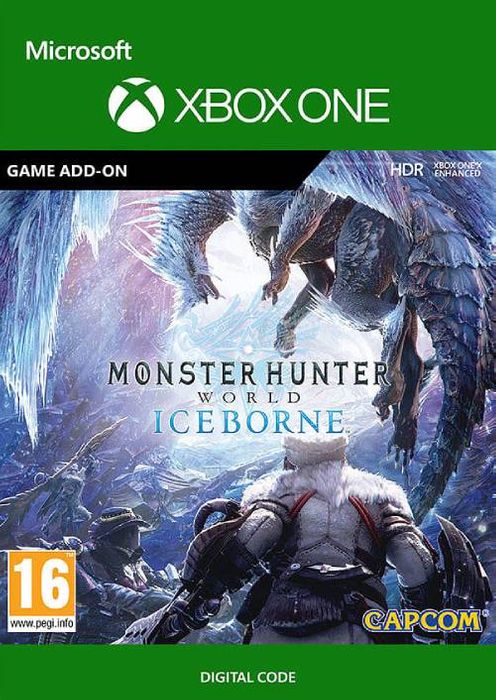 Activate with Xbox



Xbox One/360 Console
Load the "Home" screen (make sure you're signed in), and navigate right to "Store"
In "Categories", select "Games".
Choose the "Use a code" option.
Select the option to "enter the 25 character code", and enter your unique code that's displayed on the 'Order' page of CDKeys.com
Web Browser
Load a web browser and go to this address: https://redeem.microsoft.com/enter
Sign in with your Microsoft account credentials.
Enter your unique code that's displayed on the 'Order' page of CDKeys.com and follow the prompts to activate. You can find additional support for your Xbox Live account here: https://support.xbox.com/en-US/contact-us

Search online for your favourite games and always know if they are available to download at CDKeys.com