Special Price
$9.19
RRP
$47.99
Code Delivered To You Digitally
Platform
Steam
Delivery
Instant Delivery
Language
Get your instant download with CDKeys.com
This product includes Wreckfest.
The top 3 reasons to play Wreckfest
Car racing becomes a full-contact sport in Wreckfest!
Epic crashes are just as frequent as nail-biting finishes in this chaotic racing experience.
Prepare your ride for the next race (and the next fight) with a huge selection of customization options!
About Wreckfest
Break the rules and take full-contact racing to the limit with Wreckfest!
Expect epic crashes, neck-to-neck fights over the finish line and brand-new ways for metal to bend – These are the once-in-a-lifetime moments that can only be achieved in Wreckfest, with its true-to-life physics simulation crafted by legendary developer Bugbear, who also brought you FlatOut 1 & 2!
Burn rubber and shred metal in the ultimate driving playground!
Wreckfest is jam-packed with upgrade and customization options. Whether you are preparing for your next demolition derby with reinforced bumpers, roll cages, side protectors and much more, or setting your car up for a banger race with engine performance parts like air filters, camshafts, fuel systems, etc., Wreckfest is shaping up to be the best combative motorsport game out there.
Unique Racing Experience
Exhilarating no-rules racing action with defining, once-in-a-lifetime moments that can be achieved only with a true-to-life physics simulation. Witness insane neck-to-neck fighting on high-speed circuits, face total destruction madness on crazy courses with intersections and oncoming traffic, or go for demolition dominance in derby arenas.
Awesome Cars
Our cars are old, banged up, patched together... They ooze style and character! From old American heavy-hitters to agile Europeans and fun Asians, you won't find anything like this in other games.
Meaningful Customization
Change not only the look of your cars but also upgrade their body armor – Reinforce them with heavy iron that protects you from damage, but also adds weight, which impacts the cars handling. Modify your car to make a robust tank or a fragile but lightning-fast rocket, or anything in between!
Multiplayer
Wreck your friends online and take racing to the limit while chasing for demolition dominance!
Challenge modes
Have hilarious fun with lawn mowers and upon release also with crop harvesters, school buses, three-wheelers and more!
Mod support
Want to go completely nuts? Have a look at the Steam Workshop where you'll find a huge selection of mods that add monster trucks, tracks with moon-high jumps or even classic maps from famous destruction-themed games!
Drive hard. Die last.
Read more
What are the system requirements?
MINIMUM
OS

Windows Vista

Processor

Intel® Core™2 Duo 2.7 GHz or AMD equivalent

Memory

4 GB RAM

Graphics

NVIDIA Geforce® GTX™ 460 or AMD Radeon™ HD 6850

Storage

15 GB available space
RECOMMENDED
OS

Windows 7 (32 or 64bit), Windows 8, Windows 10

Processor

Intel® Core™ i5 3.0 GHz or AMD equivalent

Memory

8 GB RAM

Graphics

NVIDIA GeForce® GTX™ 970 or AMD Radeon™ R9 380X

Storage

15 GB available space
Genre
Action, Indie, Racing, Simulation, Sports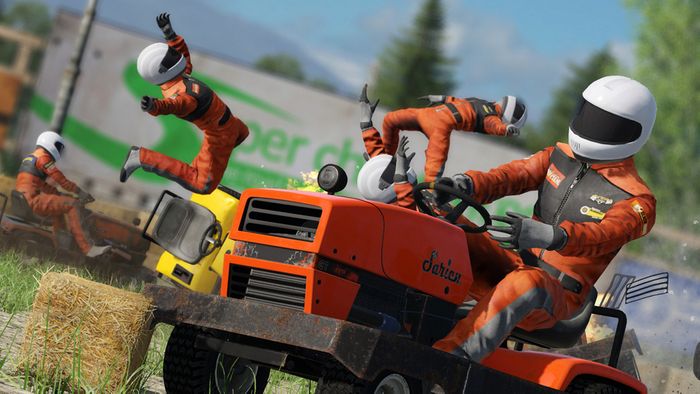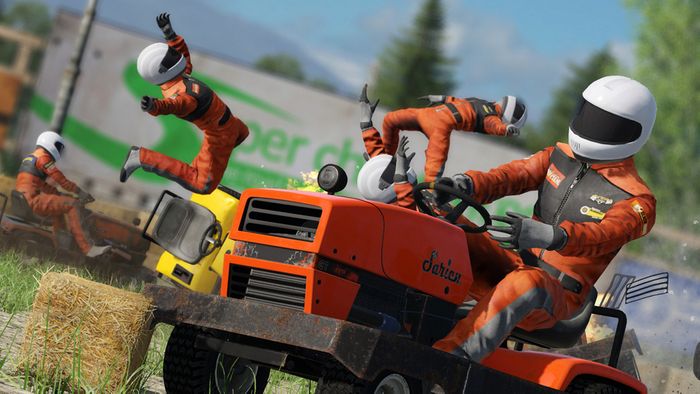 Not as good as Destruction Derby

Bought this hoping for a game similar to the old Destruction Derby. Only a couple of the arenas are similar but a lot of the game is racing round a circuit. For a racing game I'd choose many many others. Was hoping for more tbh

The Pros

Crashing into other vehicles.

The Cons

Not as many arenas as I'd hoped for to simply crash and have some mayhem.

Very fun game!

Very fun game! It has surprisingly good driving physics and crash physics. You can play all types of gamemodes

Best Arcade Racing Game on PC

This game is a ton of fun and is really stable even when playing online in large groups.
The driving model is high quality and can be used by even beginners.
The crash physics and models are wonderful
I recommend this one.

Just the game I've been looking for

Mayhem. No other words can describe this game better than that; I just love the physics in this game

Interesting concept.

Although racing games have never been my cup of tea this game is rather fun. Though I must admit it didn't keep me hooked for too long sadly.

The Pros

Felt nice to play
Music was nice

Very solid wrecking experience

Game runs smoothly, cars get wrecked very nicely and new tournaments with tracks, cars and challenges keep the interest up. Multiplayer is fun: buses driving opposite direction, tight races, some time frustrating players that just try to wreck you up.

The Pros

Smooth experience,
Very good wrecking mechanics,
Multiplayer
New content every month

The Cons

Lobby searching is old fashioned and sloppy,
Multiplayer only offers exp and money

wreckless in fest

as much as its about wrecking, the true challenge is in not being wrecked, clean racing in a harsh environment, good stuff, and technical tracks too

The Pros

the racing is good, the cars are cool, and the grafix are superb

The Cons

copywritten music for streaming, some cars sound like crap

5* fun

running on a rtx3070, have the game on the Xbox sx and its good but this pc game is great fun, plus all the mods you can add. 5*

Really impressed with this game

I can't lie, when i bought this game, i wasn't expecting much from it but now that i have played it for a while, i have realised that it is a fun and unique game. Wide variety of cars and other vehicles as well as a wide variety of maps and well developed crash physics. I really like it.

The Pros

Crash Physics, Car & Map Variations

The Cons

Damage Could be improved as cosmetic Suspension and Engine sometimes tends to be unrealistic

Great Game

Has a lot of cool vehicles, & game modes. Single player is cool but multiplayer is where you have to most fun. Recommend getting this game if you like driving weird vehicles and crashing into people.
Activate with Steam:


Download and install the Steam client on your PC.
Open the Steam client, login and locate the Games tab on the top menu. Click this and then select "Activate a Product on Steam…"

Enter your unique code that's displayed on the 'Orders' page of CDKeys.com and follow the prompts to activate.

Your game is now viewable in the "Library" tab and is available to download/install when you're ready.
You can find additional support for the Steam client here: https://help.steampowered.com/en/wizard/HelpWithSteam
Special Price
$9.19
RRP
$47.99