STAR WARS Jedi: Survivor PC (ORIGIN)
Special Price
$38.09
RRP
$76.19
Limited stock available at this price!
Code Delivered To You Digitally
Platform
EA App
Developer
Respawn Entertainment
Publisher
Electronic Arts
Delivery
Instant Delivery
Language
About STAR WARS Jedi: Survivor
The story of Cal Kestis continues in Star Wars Jedi: Survivor™, a third-person, galaxy-spanning, action-adventure game from Respawn Entertainment, developed in collaboration with Lucasfilm Games. This narratively driven, single-player title picks up 5 years after the events of Star Wars Jedi: Fallen Order™ and follows Cal's increasingly desperate fight as the galaxy descends further into darkness. Pushed to the edges of the galaxy by the Empire, Cal will find himself surrounded by threats new and familiar. As one of the last surviving Jedi Knights, Cal is driven to make a stand during the galaxy's darkest times — but how far is he willing to go to protect himself, his crew, and the legacy of the Jedi Order?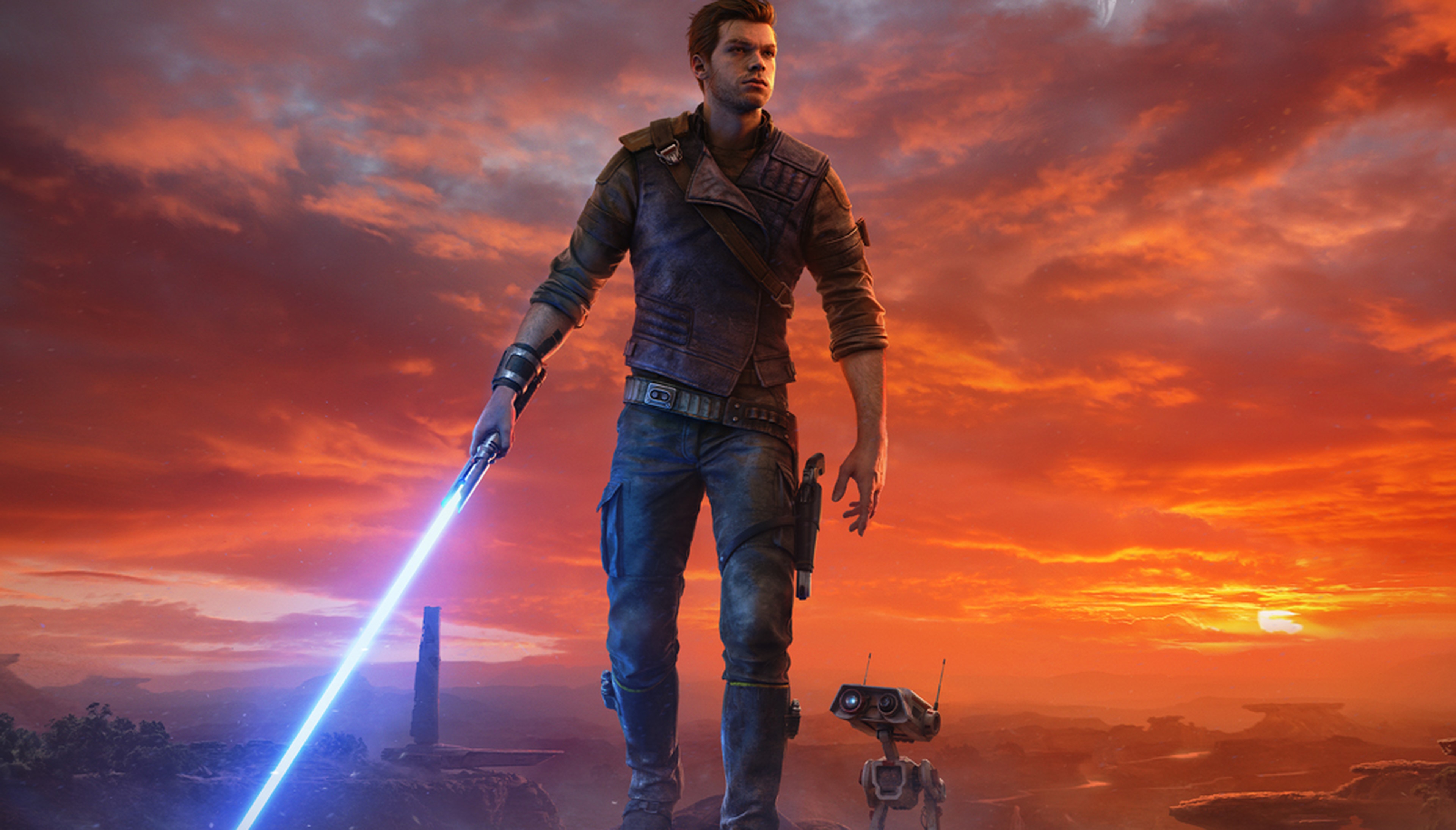 Continue Cal's journey. No longer a Padawan, Cal has come into his own and grown into a powerful Jedi Knight. Carrying the memories and expectations of the Jedi Order with him, his crusade against the Empire has only become more perilous. The Dark Times are closing in, and with enemies new and familiar surrounding him, Cal will need to decide how far he's willing to go to save those closest to him.
Go beyond your training. The cinematic combat system returns with additional Force abilities and new lightsaber fighting styles. Creatively leverage all these abilities and weapons to strategically take on an expanded host of enemies, sizing up strengths and weaknesses while cleverly utilizing your training to overcome your opponents and solve the mysteries that lay in your path.
Explore an untamed galaxy. Discover new planets and familiar frontiers in the Star Wars galaxy, each with unique biomes, challenges, and enemies. Master new skills, equipment, and abilities that will augment the ways you explore, fight, and roam. With larger areas to explore and more to discover off the beaten path, players who adventure beyond the horizon will find hidden rewards.
Read more
What are the system requirements?
MINIMUM
OS

Windows 10 64-bit

Processor

4 core / 8 threads | Intel Core i7-7700 | Ryzen 5 1400

Memory

8 GB RAM

Graphics

8GB VRAM | GTX 1070 | Radeon RX 580

Storage

130 GB available space
RECOMMENDED
OS

Windows 10 64-bit

Processor

4 core / 8 threads | Intel Core i5 11600K | Ryzen 5 5600X

Memory

16 GB RAM

Graphics

8GB VRAM | RTX2070 | RX 6700 XT

Storage

130 GB available space
Genre
Action, Adventure, Sci-fi, Singleplayer, Space
Platform
PC (Origin)
Amazing Sequel

Jedi Survivor takes all the mechanics of Fallen Order and improves them, as well as introducing new mechanics that add to replayability and greater customisation options. 10/10 recommended for purchase. (Also smooth perfomance on XBox)

Great game nearly ruined by performance issues on PC

I finally finished this game a few weeks ago after waiting weeks for updates to the performance. Even with my i7, 3070ti, 32Gb of RAM laptop, I was still getting pretty poor performance on high settings. I would have to drop it down to medium and some settings to low just to get like near 60fps, and it wasn't consistent. Thankfully now most of the issues have been fixed, but it's still janky at times. Definitely worth it now overall and an improvement over the first game in almost every way.

Great Sequel, Terrible PC Performance

Very strong follow up to Fallen Order. Improves on most elements except perhaps combat which is still a bit basic and dull at times. PC performance is very substandard, even after a bunch of updates. Would recommend people get it on Xbox X or PS5 unless you have a beastly rig, but even then not sure it would be worth the constant performance fluctuation.

The Pros

- Exploration
- Characters > Story
- Still the Best Star Wars Product in any medium

The Cons

PC Performance is very poor
Combat gets dull over time

A lot of fun

If you have played the first then you need to play this one, it just improves on an already good game. The story is very good and the game play is just as great.

Amazing Game, great upgrade to follow the first!

The world suck you up straight away with the opening, allowing you to feel like a true Jedi.

Game is big and also full of things To and uncover, which is kinda lacking in big open world games lately.

Downside is the performance, the stuttering of the FPS drops is very noticeable and off putting, same goes with texture pop in. I don't think it was ready for release. I did stop playing until some updates rollout, which was pretty quick compared to other studios, and made the game playable.



The Pros

Story
The amount of things to do in areas,
Game mechanics are gorgeous.
Funny and also hard-hitting

The Cons

Near constant FPS drops and texture pop ins.

Great Game

Started off with many problems but after company fixed most and game was playable it became very enjoyable.
Still had some bugs with graphics but nothing that would stop you playing it.
New Game+ is really good just watch out for some of the big beast in the game has they are more of a handful than anything else.

The Pros

Fighting
exploring
mini game

The Cons

Graphics problems on one planet

STAR WARS JEDI: SURVIVOR DELUXE EDITION XBOX SERIES X|S (UK)

Love the games A must buy

Insane Site

This was the best deal me and the extension Honey could find on the whole internet, I got it for nearly 42% less than retail pricing. Code of course worked, it wasnt delivered, more like it was assigned to your purchase the moment you paid, so I got the code instantly. Redeemed on EA and downloading survivor as we speak rn, great a** service, 10/10 recommend

The Pros

Delivery is instant
Everything works
Ability to refund

Great Game

This is an amazing sequel to the previous game Jedi: Fallen Order, highly recommend playing both!

Jedi Order

Love this game it is a great step up from the original and I cannot wait for a follow up. A++
Please note EA App is only available for Windows. Download Origin client for MacOS
Activate with EA App:

Click here, to download the EA App for Windows
Log in to your EA Account
Open My Collection.
Select Redeem Code
Enter your unique code that's displayed on the 'Orders' page of CDKeys.com and follow the prompts to activate.
Activate with Origin Client:
For Windows:
Log in with the EA Account where you want to add the game.
Click the Origin menu
Select Redeem Code
Enter your unique code that's displayed on the 'Orders' page of CDKeys.com and follow the prompts to activate.
For Mac:
Log in with the EA Account where you want to add the game.
Go to your computer's top menu to select Games and Redeem Code
Enter your unique code that's displayed on the 'Orders' page of CDKeys.com and follow the prompts to activate.
Special Price
$38.09
RRP
$76.19