Special Price
$25.39
RRP
$48.39
Limited stock available at this price!
Code Delivered To You Digitally
Platform
Steam
Delivery
Instant Delivery
Language
Get your instant download with CDKeys.com
This product includes God of War PC.
The top 3 reasons to play God of War PC
Enter the Norse realm
Journey to a dark, elemental world of fearsome creatures
Engage in visceral, physical combat
About God of War PC
His vengeance against the Gods of Olympus years behind him, Kratos now lives as a man in the realm of Norse Gods and monsters. It is in this harsh, unforgiving world that he must fight to survive… and teach his son to do the same.
Kratos is a father again. As mentor and protector to Atreus, a son determined to earn his respect, he is forced to deal with and control the rage that has long defined him while out in a very dangerous world with his son.
From the marble and columns of ornate Olympus to the gritty forests, mountains and caves of pre-Viking Norse lore, this is a distinctly new realm with its own pantheon of creatures, monsters and gods.
With an over the shoulder camera that brings the player closer to the action than ever before, fights in God of War™ mirror the pantheon of Norse creatures Kratos will face: grand, gritty and grueling. A new main weapon and new abilities retain the defining spirit of the God of War series while presenting a vision of conflict that forges new ground in the genre.
Read more
What are the system requirements?
MINIMUM
OS

Windows 10 64-bit

Processor

Intel i5-2500k (4 core 3.3 GHz) or AMD Ryzen 3 1200 (4 core 3.1 GHz)

Memory

8 GB RAM

Graphics

NVIDIA GTX 960 (4 GB) or AMD R9 290X (4 GB)

Storage

70 GB available space
RECOMMENDED
OS

Windows 10 64-bit

Processor

Intel i5-6600k (4 core 3.5 GHz) or AMD Ryzen 5 2400 G (4 core 3.6 GHz)

Memory

8 GB RAM

Graphics

NVIDIA GTX 1060 (6 GB) or AMD RX 570 (4 GB)

Storage

70 GB available space
Genre
Action, Adventure, Atmospheric, Crafting, Exploration, Fantasy, RPG, Singleplayer, Story Rich, Violent, Gore, Third Person
Platform
PC (WW)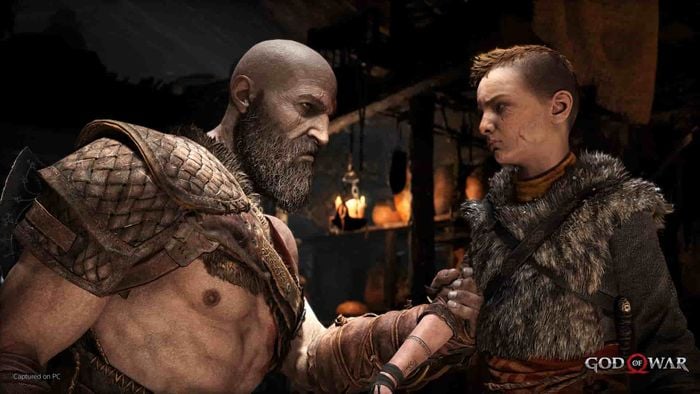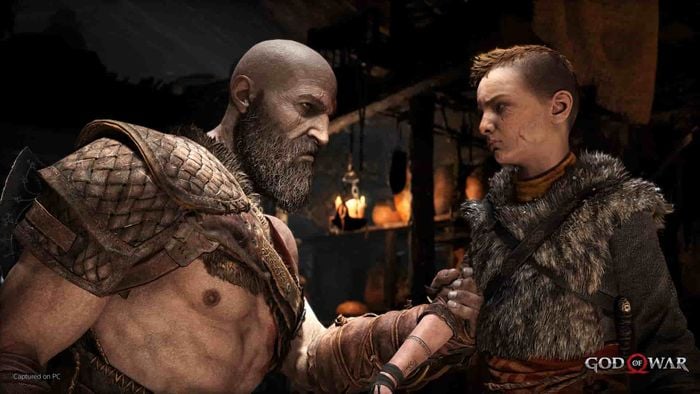 BOY this game is Awesome

God of War is such a brilliant game to play, the price you don't want to miss out on. With a such a remarkable storyline following Kratos and Atreus though the good and bad times, challengers you face together

The Pros

combat
story
graphics
action

Awesome Dad and Kid

Played it on the PS4, gonna play it again in PC. I have a platinum trophy of this on the PS4 and plan to get the achievements on Steam as well.

The Pros

I like the story, graphics, lore, everything.

absolute amazing

10/10 love the game and got it from cdkeys fast, the graphics and all are really cool and will hundred percent get more preorders from cdkeys.

The Pros

gameplay and voice acting is sick

Legendary Game

I have played and completed this game on PS4, the story is phenomenal and really exceeds what we think of Kratos as a person and his ethics. The story of a distant father and his son is amazing, as he learns to be a father, and Atreus learns to be a God.

The gameplay is equally as good, it is great fun with the Leviathan Axe hacking and slashing enemies. The game offers all type of content including Dark Souls - Esque challenges for you to complete after finishing the story. The valkyrie fights are truly a challenge, especially on harder modes.

Overall, the game is outstanding with an emotional and artistic story as well as visceral gameplay and addictive Hack n Slashing. I urge anyone who is a fan of moving stories to play this game, even if you think you will play bad, this game is must-have for its exceptional strides in the God of War series and gaming in general.

The Pros

- Great Graphics
- Great Combat
- Great Story
- Great Everything.

this games is amazing

this game is probably my favorite game on PlayStation exclusive this is probably one of the best game I have played out of the god of war franchise

One of my top 2 games of all time.

One of the greatest games ever created without a doubt and now it's even better on PC. Only have a couple minor problems with the port (see below).

The Cons

Only downsides are no native FOV slider at launch and no way to disable TAA. Thats it.

Can't wait

I watched youtubers play through this game and have always loved god of war games the downfall literally being the exclusivity of this game just to Playstation. Extremely excited to play through this game myself.

The Cons

It took so long to come to other platforms

Amazing

Amazing. played this on pS4 when it first came out and I haven't played it since I have 100% it on PS4 cant wait to do the same to it on pc

The Cons

I found it hard to get off the game

Greatest game of all time

I've played God Of War on both PS4 and PS5 over 5 times, enjoying it as much as the first time I played it. It has a fantastic story and amazing and exciting gameplay. I recommend this to anyone with a PC or PlayStation.

The Pros

Gameplay
Combat
Story
Lore
Easy to pick up
Graphics

TuMeke For The Teke GAME!

Played it PS4/PS5 and definitely gonna play it on PC!

Activate with Steam:


Download and install the Steam client on your PC.
Open the Steam client, login and locate the Games tab on the top menu. Click this and then select "Activate a Product on Steam…"

Enter your unique code that's displayed on the 'Orders' page of CDKeys.com and follow the prompts to activate.

Your game is now viewable in the "Library" tab and is available to download/install when you're ready.
You can find additional support for the Steam client here: https://help.steampowered.com/en/wizard/HelpWithSteam
Special Price
$25.39
RRP
$48.39