Warhammer Vermintide 2 PC
Special Price
$4.99
RRP
$29.99
Code Delivered To You Digitally
Platform
Steam
Delivery
Instant Delivery
Language
-83%

-91%
Get your instant download with CDKeys.com
This product includes Warhammer Vermintide 2 PC & Death of the Reik DLC (Free).
The top 3 reasons to play Warhammer Vermintide 2 PC
Vermintide is back – darker, bloodier and more intense than ever!
Choose between 15 unique careers, each with different appearances, abilities, talents and weapons.
Prepare to face a threat of unparalleled magnitude as the Chaos and Skaven armies have formed a dark pact to plunge the world into death and decay. Our heroes will face a horde of hostile combatants in a variety of shapes and sizes.
About Warhammer Vermintide 2 PC
Warhammer: Vermintide 2 is the sequel to the critically acclaimed Vermintide. The time has arrived to revisit the fierce first-person co-op slaughter-fest featuring visceral and ground breaking melee action, set in the apocalyptic End Times of the war-ravaged Warhammer Fantasy Battles world .
Our 5 heroes have returned to take on an even greater threat – the combined forces of a malevolent and destructive Chaos army and the swarming Skaven horde. Prepare to be challenged like never before as you and your team desperately try to survive the never-ending onslaught.
Choose between 15 different careers, climb the talent trees, customize your arsenal to fit your unique play style, fight your way through a myriad of stunning levels, and challenge yourself in our new Heroic Deeds System. The only thing standing between utter defeat and victory is you and your allies. If you fall - so will the Empire.
Facing the infinite numbers of the Skaven combined with the brutal strength of the Chaos army, the heroes must stand together and their fight must strike a balance between sound tactics and fury to overcome unimaginable odds.
Experience unique scenarios and intense trials with our new Heroic Deeds System - consumable quests that will dramatically alter enemy composition, level settings, weapon use and mission objectives.
Level up your heroes and climb the talent tree of your chosen career, unlocking new abilities and gaining access to powerful gear along the way.
Explore a wide range of breathtaking new levels set in and around Helmgart, a fortress city protecting the Bretonnian border of the Empire.
At the end of each mission, you will be rewarded with relevant loot - weapons, consumable quests, trinkets, hats, crafting material and more - all applicable to your chosen career.
Read more
What are the system requirements?
MINIMUM
OS

64-bit Windows 7, 64-bit Windows 8 (8.1) or 64-bit Windows 10

Processor

Intel Core i5-2300 @ 2.80 GHz / AMD FX-4350 @ 4.2 GHz

Memory

6 GB RAM

Graphics

NVIDIA GeForce GTX 460 or AMD Radeon HD 5870

Storage

65 GB available space
RECOMMENDED
OS

64-bit Windows 10

Processor

Intel Core i7- 3770 @ 3.5 GHz or AMD FX-8350 @ 4 GHz

Memory

8 GB RAM

Graphics

NVIDIA GeForce GTX 970/1060 or ATI Radeon R9 series

Storage

65 GB available space
Genre
Action, Indie, Multiplayer, Violent
Platform
PC (WW)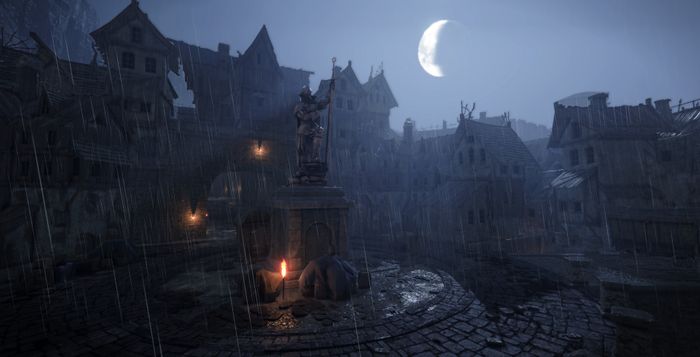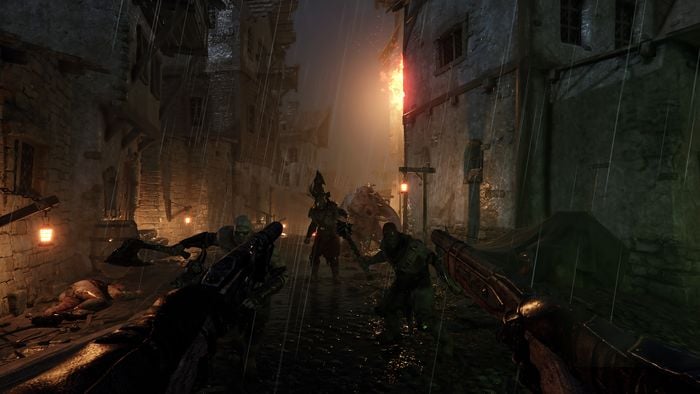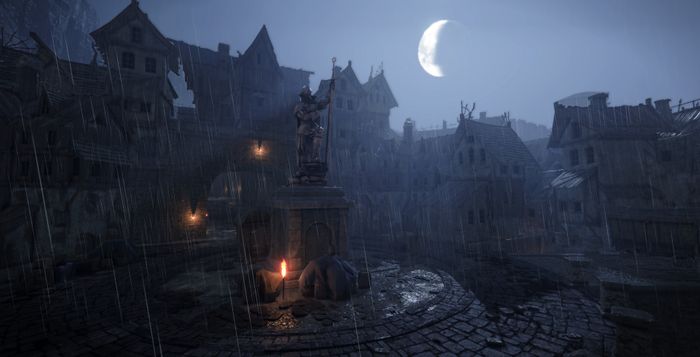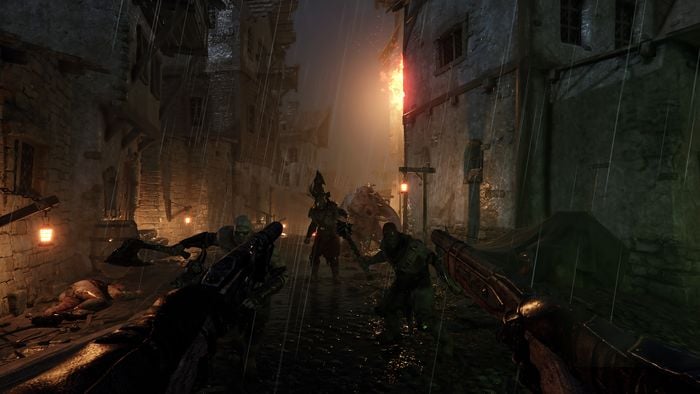 Beautiful smasher!

While not the biggest 'gamer' I love this game!! I can leave it alone and come back to it over and over and not feel like I've lost much. It does have a ceiling, something I hope will be expanded on in the future - I see a lot of room for expansion.

The environments are spectacular, and as a new player it's easy to get caught looking at the incredibly detailed maps - probably my favorite part. The co-op missions in the Chaos Wastes are great but, the quick play is pretty degen if you're not with your squad.

An... I. N. C. R. E. D. I. B. L. E!! value, and lots of replay-able fun!!

The Pros

Magnificent Environments
Co-op play in the Chaos Wastes
NPC Physics

The Cons

Quick play is pretty degenerate.
Power ceiling

Great game

Game is very fun to play and looks great for the age of it. Would highly recommend to anyone wanting to play this

The Pros

Mission length is decent and combat is fun

The Cons

Not enough mission in the game or customisation choices and only five characters to chose from

SMASH IT

If you're looking for a smash, whack or killing experience this game is for you.
Vermintide is not for the fait hearted but with multiple characters to choose from and different abilities there is definitely a character for you. If you want hordes, big bosses and gory action this game has that for you.

The Pros

Online Multiplayer is simple and really fun!

fantastic game

Awesome game to play with friends with nice graphics and IMO the best first person melee system of an game.

The Pros

graphics are nice, combat is fast an fluid, lots of replay ability and great characters.

The Cons

the dlcs are a bit overpriced for what you get.

Good game

Warhammer Vermintide 2 - Great game with friends. Good game with random players. Solo with bots its ok too.

The Pros

Good combination on melee and ranged gameplay.

Key worked fine

was hesitant to buy a cd keys game, but at that price, how could i not try, its now in my steam library!

Cheaper Price

Just got this game on discount thanks to CDKEY . Cant wait to try this game. fun to play with friends & cheap if you buy from CDKEY

The Pros

fun to play with friends & cheap if you buy from CDKEY

The Cons

none as haven't played yet

Amazing

10/10 game, amazing Storyline a Bunch of great weapons and Other equipment and the Characters are amazing! :D please make more of this type of game!


The Pros

Great Game. Good storyline

Fun with friends or solo

Good fun and witty dialogue. The only practical downsides is the lack of missions for the game and how minimal the loot is.

The Pros

Witty and interesting characters. Enjoyable maps and enemies.

The Cons

Small amount of missions and poor loot system

Good hack and slash First Person

Definitely a game that is best with friends and communication. Even with its age, still entertaining and engaging.

The Pros

Great withe friends. Easy drop in/drop out of rounds

The Cons

A little hard to get the hang of at first and some things not explained in the tutorial/prologue.
Activate with Steam:


Download and install the Steam client on your PC.
Open the Steam client, login and locate the Games tab on the top menu. Click this and then select "Activate a Product on Steam…"

Enter your unique code that's displayed on the 'Orders' page of CDKeys.com and follow the prompts to activate.

Your game is now viewable in the "Library" tab and is available to download/install when you're ready.
You can find additional support for the Steam client here: https://help.steampowered.com/en/wizard/HelpWithSteam
Special Price
$4.99
RRP
$29.99