Special Price
$4.79
RRP
$48.79
Limited stock available at this price!
Code Delivered To You Digitally
Platform
Steam
Developer
Rebellion Developments
Delivery
Instant Delivery
Language
-93%

-91%

-91%
Get your instant download with CDKeys.com
This product includes Sniper Elite 4.
The top 3 reasons to play Sniper Elite 4
Travel through diverse and detailed environments and engage in stealth gameplay as you help liberate Italy from the jaws of fascism.
This latest entry in the World War II combat franchise takes you closer to the action than ever before.
When you get the kill-shot in Sniper Elite 4… you'll know.
About Sniper Elite 4
Expansive Campaign: Encounter hours of gripping gameplay in huge campaign levels with hundreds of enemies, vehicles and high-ranking Nazi officers to hunt. Forge your own path to your objectives, uncover new sniper nests, find secret side missions, collectibles and more!
Award Winning Sniping: Experience genre-defining rifle ballistics where snipers must take account of wind, gravity and heart rate to land satisfying shots over hundreds of meters.
Extensive Arsenal: Adapt seamlessly to any combat situation with an impressive array of iconic World War 2 sniper rifles, pistols, submachine guns, heavy weapons, traps, grenades and explosives.
Deep Customisation: Hone your combat effectiveness by upgrading skills and tweaking key weapon traits such as scope magnification, muzzle velocity and stability. Create and edit custom loadouts for any encounter.
Slick Traversals and Takedowns: Climb, hang, shimmy and leap your way across the game's vast environments to get the drop on enemies and deliver killing blows from behind cover, hanging over ledges and more!
Acclaimed X-ray Kill Cams: Sniper Elite's acclaimed X-ray Kill Camera returns with all-new visuals and features, now framing your most impressive melee attacks and explosive trap kills in bone-cracking detail.
Tactical Co-op: Play the entire campaign online with another player or jump into dedicated co-operative game modes for up to 4 players.
Thrilling Multiplayer: Take Sniper Elite's trademark sharpshooting into unique competitive play for up to 12 players in 7 modes across 6 custom-designed maps. Even more modes and maps will be released FREE after launch!
Read more
What are the system requirements?
MINIMUM
OS

64-bit Windows 7, 64-bit Windows 8.1 or 64-bit Windows 10

Processor

ntel CPU Core i3-2100 or AMD equivalent

Memory

4 GB RAM

Graphics

AMD Radeon HD 7870 (2GB) or NVIDIA GeForce GTX 660 (2GB)

Storage

15 GB
RECOMMENDED
OS

64-bit Windows 7, 64-bit Windows 8.1 or 64-bit Windows 10

Processor

Intel CPU Core i7-3770 or AMD equivalent

Memory

8 GB RAM

Graphics

Nvidia GPU GeForce GTX 970 / AMD GPU Radeon RX 480

Storage

15 GB>
Genre
Action, Multiplayer, Stealth Action, Tactical Shooter
Platform
PC (WW)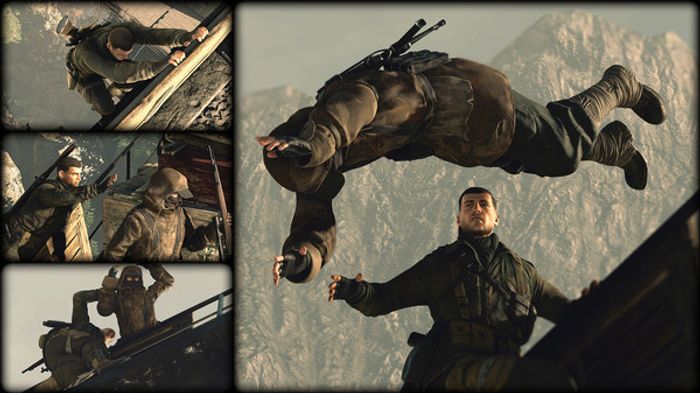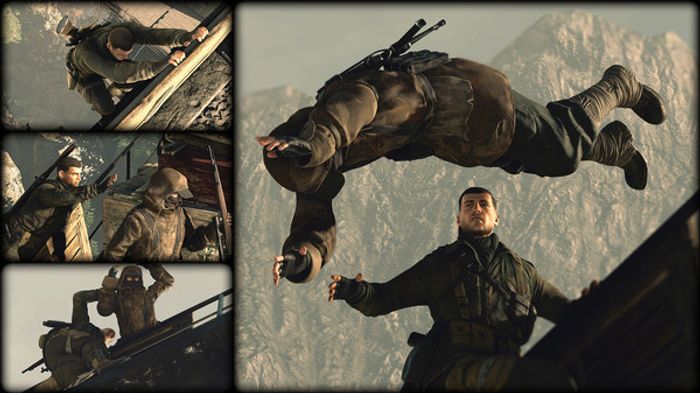 PRETTY GOOD

GREAT CAMPAIGN, IS INMERSIVE. I PLAY SNIPER ELITE FROM V2. GREAT GAME FOR WW2 FANS

The Cons

DONT LIKE THE NPC ARE SO STUPID SOMETIMES

I love this so much! Great deals!

I love this so much! Great deals!

Pretty Good

Pretty good game and the fact that you can play the whole thing co-op is really nice, would be nice if there were more levels though.

Good-looking but generic.

Sniper Elite 4 is a bloody, good-looking but generic World War II shooter that sufficiently entertains but rarely ever surprises.I still have gruesome enjoyability of those hyper gory killcams that, even after four games, the sniping continues to be satisfying enough to warrant a look in.

The Cons

Poor voice acting & Multiplayer is empty!

Great action sniper game

Loved this game. Easy enough to get into and a massive step up from earlier titles. Good blend of action and stealth and a bit simplified from other games out there.

The Cons

Some challenges are a bit lame.

SNIPER ELITE 4 DELUXE EDITION

Sniper Elite 4 is a bloody, good-looking but generic World War II shooter that sufficiently entertains but rarely ever surprises. It really is testament to the gruesome enjoyability of those hyper gory killcams that, even after four games, the sniping continues to be satisfying enough to warrant a look in.

The Pros

X-ray kills are morbidly satisfying

The Cons

AI is inconsistent
Uninspired story

The game is good but not for long

I think the game is very fun but gets repetitive fast, the gun play is decent with factors like sound masking and triangulation, the levels are good but can be long to traverse and difficult to maneuverer (but I guess that's the point of the game.

Well made game

I do not usually play wartime games, or shooters in general, but this is just well made. I love the open levels, so you can play the game as you like. You can be stelthy or go guns blazin'. In some aspects it can be compared to new Hitman games, but it has its own uniqness. And those x-ray shots never get old.

Amazing!

Game is absolutely amazing. If you buy 2 CD keys and give one to your friend, you both can play co-op.

The Pros

very fun, especially with friends

NNXZ

Great with sniper game feel like I'm a killer hahahahaha i shot to nutshell and every head when they passs

The Pros

feel like i'm shot by my self
Activate with Steam:


Download and install the Steam client on your PC.
Open the Steam client, login and locate the Games tab on the top menu. Click this and then select "Activate a Product on Steam…"

Enter your unique code that's displayed on the 'Orders' page of CDKeys.com and follow the prompts to activate.

Your game is now viewable in the "Library" tab and is available to download/install when you're ready.
You can find additional support for the Steam client here: https://help.steampowered.com/en/wizard/HelpWithSteam
Special Price
$4.79
RRP
$48.79