Special Price
$7.59
RRP
$44.39
Code Delivered To You Digitally
Platform
Steam
Developer
Paradox Development Studio
Publisher
Paradox Interactive
Language
Get your instant download with CDKeys.com
This product includes Imperator Rome for PC + DLC.
The top 3 reasons to play Imperator Rome
Experience the challenges and immense rewards of being an all-powerful ruler in the era between Alexander the Great and the founding of Rome.
Manage a diverse population, fend off invaders, and develop alliances with other nations.
Just make sure you watch your back… With great power comes a great amount of treacherous individuals trying to steal it for themselves!
About Imperator Rome
PRE-ORDER BONUS DLC INCLUDED!

The Epirus Flavor Pack adds events and context for Pyrrhus's short but glorious career to Imperator: Rome.
Unique Army Model for Epirus
Unique Ship Model for Epirus
Special Epirote Monument: the Oracle complex of Dodona
6 Event Chains related to the life of Pyrrhus of Epirus each with new art
One new music track
Imperator: Rome is the newest grand strategy title from Paradox Development Studio. Set in the tumultuous centuries from Alexander's Successor Empires in the East to the foundation of the Roman Empire, Imperator: Rome invites you to relive the pageantry and challenges of empire building in the classical era. Manage your population, keep an eye out for treachery, and keep faith with your gods.
A living world of characters with varying skills and traits that will change over time. They will lead your nation, govern your provinces and command your armies and fleets. We also introduce our new, more human-like character art.
Citizens, freemen, tribesmen and slaves - each population with its own culture and religion. Whether they fill your armies, fill your coffers or fill your colonies, keep an eye on their happiness - your success depends on their satisfaction.
Choose your approach before battle to counter the stratagems of your foes.
Each culture has a unique way of waging war. Romans and Celts have different options available to them. Unlock unique bonuses, abilities and units.
Manage the senate in a Republic, hold your court together in a monarchy, answer to the clans in a tribal system.
Migrating barbarians may sack or settle your best land, while disloyal governors or generals can turn against you - taking their armies with them!
Goods provide bonuses to their home province. Will you take advantage of stockpiles for local strength or trade excess goods to spread the wealth around?
Invest in buildings, roads and defences to make your kingdom stronger and richer.
Read more
What are the system requirements?
MINIMUM
OS

Windows® 7 Home Premium 64 bit SP1

Processor

Intel® iCore™ i3-550 or AMD® Phenom II X6 1055T

Memory

4 GB RAM

Graphics

Nvidia® GeForce™ GTX 460 or AMD® Radeon™ HD 6970

Storage

20 GB
RECOMMENDED
OS

Windows® 10 Home 64 bit

Processor

Intel® iCore™ i5- 3570K or AMD® Ryzen™ 3 2200G

Memory

6 GB RAM

Graphics

Nvidia® GeForce™ GTX 660 or AMD® Radeon™ R9 380

Storage

20 GB
Genre
Simulation, Strategy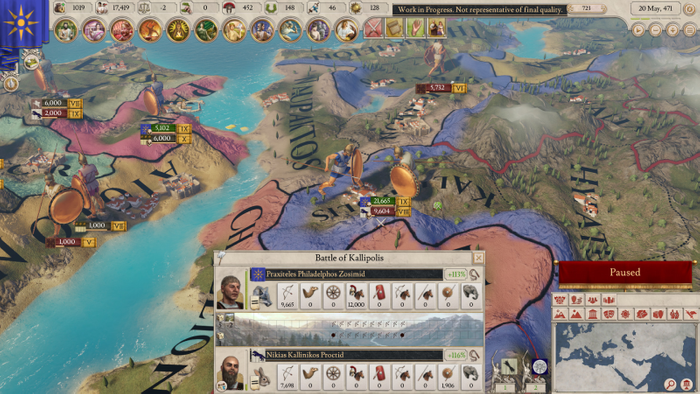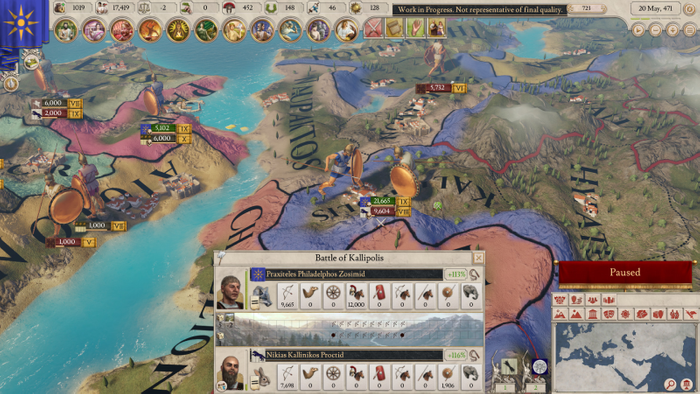 Not an finish game but an start

pretty good game now after menander update and paradox are committed to further updating the game, enjoying my time with it.
Activate with Steam:


Download and install the Steam client on your PC.
Open the Steam client, login and locate the Games tab on the top menu. Click this and then select "Activate a Product on Steam…"

Enter your unique code that's displayed on the 'Orders' page of CDKeys.com and follow the prompts to activate.

Your game is now viewable in the "Library" tab and is available to download/install when you're ready.
You can find additional support for the Steam client here: https://help.steampowered.com/en/wizard/HelpWithSteam
Special Price
$7.59
RRP
$44.39