Guild Wars 2 Path of Fire Deluxe Edition PC
Code Delivered To You Digitally
Platform
ArenaNet
Release Date
22 Sept 2017
Language
Also Available:
Guild Wars 2: 2000 Gem Points Here!
Guild Wars 2: Heart of Thorns Here!
INCLUDES:
Guild Wars 2 Base Game
Guild Wars 2: Path of Fire Deluxe Edition
Mini Rogue Balthazar
The Spearmarshal's Gift
The fires of war are burning in the South as the rogue god Balthazar wages a scorched-earth campaign against the Elder Dragons. Follow his path to the Crystal Desert and Elona. Tyria's fate hangs in the balance.
Join thousands of other players in a persistent online world in Guild Wars 2: Path of Fire, the second expansion to the award-winning Guild Wars 2. You'll experience a new chapter in Tyria's story, explore vast new maps astride your very own mounts, and unlock nine new elite specializations to customize your playstyle.
Deluxe Edition Bonuses
Additional character slot
Unlock an additional slot to create a new character on your game account.
Identity Repair Kit
Give an existing character a brand new look and name with a Total Makeover Kit and Name Change Contract.
Sunspear Outfit
An heirloom passed down by Elona's greatest heroes. Unlock the Sunspear Outfit for use by every character on your account.
Lily of the Elon permanent pass
Rub elbows with Amnoon's nobility—and its criminal underground—on a luxury riverboat casino outfitted with vendors and other convenient amenities.
Max-Level Boost
When you purchase Guild Wars 2: Path of Fire, you'll receive a Max-Level Boost to instantly raise one character's level to 80. You'll gain immediate access to Guild Wars 2's max-level content, along with gear and gold to help you begin your journey.
Key Features
Mounts
Mounts are far more than a speed boost—they're a whole new way to explore the world of Tyria. Unlock and train them using the max-level Mastery progression system, and explore freely by leaping across canyons, bounding up high cliffs, and skimming over quicksand.
Elite specializations
Evolve and customize your level 80 characters with new elite specializations for every profession. With a variety of playstyles, weapon choices, and traits to choose from, there are more options than ever to play your way.
New rewards
Collect and upgrade armor sets and weapon skins that reflect the beauty, magic, and culture of the desert.
Bounties
Kick off challenging boss events whenever you're ready to take them on. Everyone can join the hunt!
No Subscription
Get the game and play. It's that simple. No further purchases required. You don't need to purchase the previous expansion, Guild Wars 2: Heart of Thorns, to play. In addition, when you make a Guild Wars 2 account, the entire core game is yours to explore free
---
Minimum System Requirements
Windows® 7 or better (64 bit only)
Intel® Core™ 2 Quad 2.4 GHz, Core i3, AMD Athlon 64 X2 or better
4 GB RAM
NVIDIA® GeForce® 8800GTS, ATI Radeon® HD 2900 XT
50 GB available HDD space
Broadband internet connection
Keyboard and mouse
Mac OS®X 10.9.X or later
Intel® Core™ i5 or better
4 GB RAM or better
NVIDIA® GeForce® 320M, ATI Radeon® HD 6630M, IntelHD 3000 or better
50 GB available HDD space
Broadband internet connection
Keyboard and mouse
Platform
PC (WW)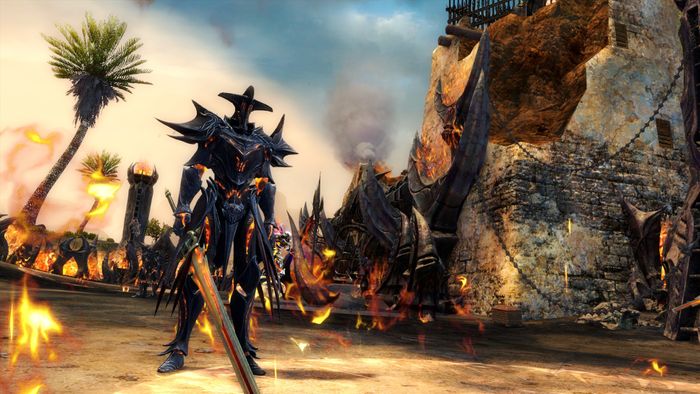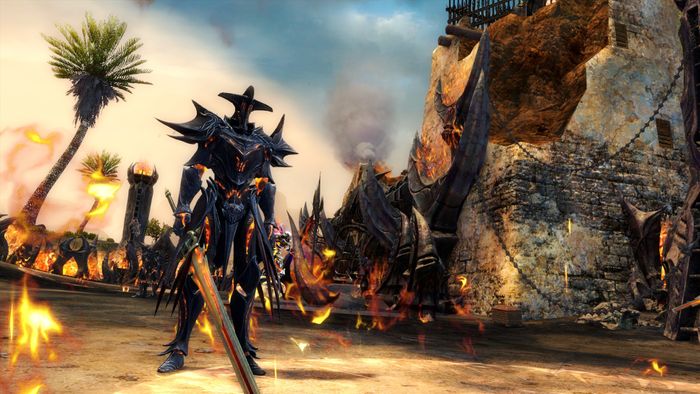 The best rpg i ever played

Game is great and this DLC make even better

Game's awesome

Love the story writing of this game, its very immersive. Also CDKey's service is VERY fast and easy, definitely recommends.
ORDER NUMBER: #0138106649

This Series Is Amzazing

Love the Guild Wars series, another amazing addition to the game. Love the active cutscenes as apposed to the old images on screen form early and season 1.
The mount system is incredible, defiantly leaps and bound ahead and above of WoW mounts, and more character to them and playability rather than it just being a fancy trophy item.

The Pros

New Mounts
New Story
New Specializations
Gorgeous Art style

The Cons

Having to wait until 2022 for the next expansion

Activated 2 DLCs per one order

It felt risky to buy it from CDKEYS and activated it on ArenaNet. The result I get 2 DLCs and keys is working perfectly! Thanks!

Reviewed by

DeborahSathler

Great buy

I was really nervous because of that reddit post but decided to risk it anyway. Totally worth it. You get the extra expansions plus character slots just as if you had purchased from arena net.

It works

Writting this because many people think this site is a scam on Reddit. I bought it myself and I can activate it flawlessly.
I was intent to buy this on Instant Gaming but then decided to pay additional 2 euros in CDKeys, and I was right.

Fast and easy

I like gw2 a lot made a free account and after 1 week decided to upgrade. Got my key in 10 sec after purchase fast and good service.

Awesome

This is the best game a have ever played

Instant Access, working good

Instant delivery of cd key. Activated on game, all OK.

Recomended.

Instant Delivery & Cheap, Highly Recommend

I've had heard bad reviews, but the service is exceptionally good/fast.
Activate with ArenaNet:

In a web browser, head to:https://account.arena.net/login
Register a new account or log in to the account where you would like to redeem your code
Click the "Redeem a Code" button on the "Overview" page, enter your unique code that's displayed on the 'Order' page of CDKeys.com, then hit Submit.

ACTIVATE GEMS WITH ARENA
Create/login to Guild Wars 2 with the account where you want to unlock gems.
Open the Black Lion Trading Company panel. You can also click the lion icon in the upper left corner of the game screen.
Click the "Redeem Code" link in the upper left corner of the Store homepage.




Enter your unique code that's displayed on the 'Orders' page of CDKeys.com into the field that reads: "Please enter your Gem code"
Click Redeem.