Special Price
$15.99
RRP
$51.69
Code Delivered To You Digitally
Platform
Steam
Developer
Paradox Development Studio
Publisher
Paradox Interactive
Delivery
Instant Delivery
Language
-83%

-85%

-93%
Get your instant download with CDKeys.com
This product includes Crusader Kings III
The top 3 reasons to play Crusader Kings III
Choose a royal or noble house from a number of realms on a map that stretches from Iceland to India, from the Arctic Circle to Central Africa.
Adopt one of five different lifestyles, perfecting your skills in military strategy or kingdom management.
Use your spymaster to discover plots against your dynasty and your rule.
About Crusader Kings III
Paradox Development Studio brings you the sequel to one of the most popular strategy games ever made. Crusader Kings III is the heir to a long legacy of historical grand strategy experiences and arrives with a host of new ways to ensure the success of your royal house.
HISTORY: Guide a dynasty through the centuries, ensuring the security and power of each new generation. Gather new lands and titles to cement your legacy.Be a pious king to bring the religious powers to your side, or strike out on your own, designing your own splinter religion and earning everlasting fame or eternal damnation.Knights, peasant revolts, pilgrimages, Viking raiders...experience the drama and pageantry of the Middle Ages.
CHARACTER: Acquire character traits that will guide your actions, but beware if you act against your nature! The stress from denying your truest self could bring a new host of troubles!. Choose appropriate guardians for your heirs, or train them yourself. But what do you do if the legal heir is not quite up to the job?.Violent characters may develop a fearsome reputation, cowering your timid subjects into obedience with the dread you inspire.
WARFARE: Recruit man-at-arms units and powerful knights to supplement your royal levies.Research new technologies to increase the wealth and military might of your realm.Hire mercenaries and Holy Orders for your major wars. Supplement your income with ransomed prisoners or raiding parties on neighboring realms.
INTRIGUE: Recruit agents to assist your schemes to undermine or murder anyone who stands between you and power. Seduce other characters for love or political power.Gather information for blackmailing purposes or call in favors whenever your plans need an extra bit of influence.
Read more
What are the system requirements?
Windows
OS

Windows® 10 Home 64 bit

Processor

Intel® iCore™ i5- 4670K or AMD® Ryzen™ 5 2400G

Memory

8 GB RAM

Graphics

Nvidia® GeForce™ GTX 1650 (4 GB)

Storage

8GB
Mac OS X
OS

Mojave (MAC OS X 10.14)

Processor

Intel® iCore™ i7-7820HQ

Memory

16 GB RAM

Graphics

AMD® Radeon™ PRO 560 (4 GB)

Storage

8GB
Mac OS X
OS

Ubuntu 18.04

Processor

Intel® iCore™ i5- 4670K or AMD® Ryzen™ 5 2400G

Memory

8 GB RAM

Graphics

Nvidia® GeForce™ GTX 1650 (4 GB)

Storage

8GB
Genre
Multiplayer, RPG, Simulation, Strategy, Historical, War
Platform
PC (WW)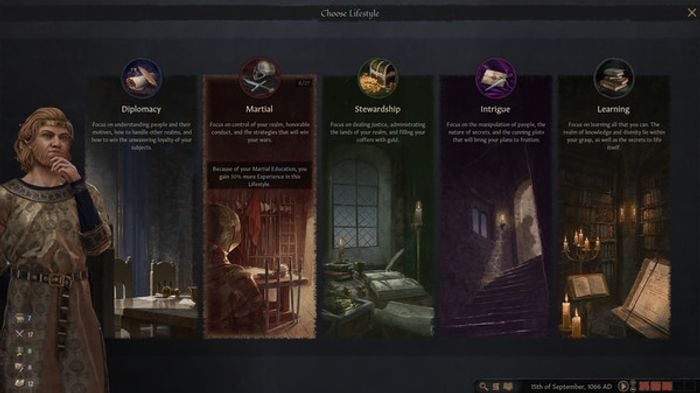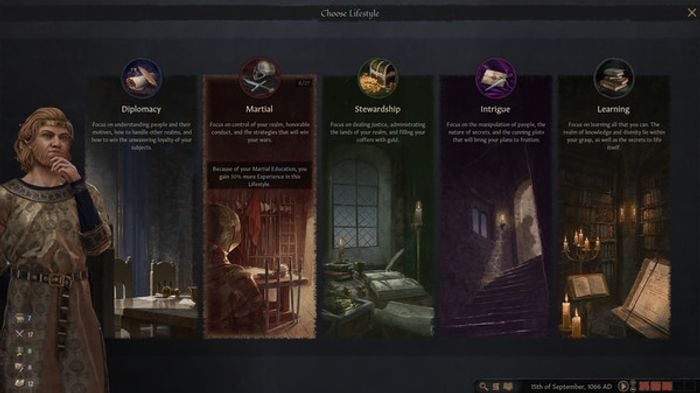 Great game

The game itself as a lot of content to play through and you can put yourself in many different scenarios that make it feel like a totally different game. Or more like you've bought 5 DLC's just from the base games content!
It is hard to start though which I am (I hope) getting past but even so it's really enjoyable

CRUSADER KINGS III: ROYAL EDITION PC

It's an interesting game.Starting with a weak lord, its descendants can become emperors of the empire, and various events that can be held during the process are enjoyable.

Excellent game

Game is a very good strategy game to get you thinking outside the box for a solution. There is a ton of reading that should be done in order to effectively play the game, but well worth the time.

The Cons

Lots of reading to even know what is going on.

Brilliant

The game is incredible, massive upgrade compared to CK2 and a lot more friendly to new players. The price is a bargain especially since you get all of the currently released expansions as well as the new one coming out soon The Royal Court.

10/10

Totally worth the money. It's a complex and fun roleplay strategy game. It can be overwhelming at first, but you will quickly get the hang of it.

Clear improvement over CK2 but still has a long way to go

CK2 was one of the best games I have played (despite it being renowned as being a spreadsheet simulator), providing me with endless hours of fun. CK3 combines improvements in newer Paradox titles with CK2s format to produce something that is even better. Despite having much more content at launch though, CK3 does require upcoming DLC to match the same level of entertainment as CK2 currently has.

The Pros

New systems
Feels a bit more game-y
Better graphics

The Cons

Feels a bit more game-y
Requires DLC
Graphical style
Multiplayer

Large

Yeah this games pretty good, always new stuff to do and an infinite amount of possibilities to play through made possibly by the reduced prices on this site.

10/10

It's great. Totally worth the money. The RP is amazing and the multiplayer is great. Great game, great developer.

amazing

so fun and full of things do to if you get bored of one place you can go somewhere else and have a completely different experience


The Cons

load times because of my pc (so not the fault of paradox)

Great Game!

Although a bit of a hard game to get into, once you understand it, say goodbye to hours of your life!
Activate with Steam:


Download and install the Steam client on your PC.
Open the Steam client, login and locate the Games tab on the top menu. Click this and then select "Activate a Product on Steam…"

Enter your unique code that's displayed on the 'Orders' page of CDKeys.com and follow the prompts to activate.

Your game is now viewable in the "Library" tab and is available to download/install when you're ready.
You can find additional support for the Steam client here: https://help.steampowered.com/en/wizard/HelpWithSteam
Special Price
$15.99
RRP
$51.69