Arma 3: Anniversary Edition PC
Special Price
$21.09
RRP
$63.49
Code Delivered To You Digitally
Platform
Steam
Publisher
Bohemia Interactive
Language
Get instant download of Arma 3: Anniversary Edition on PC with CDKeys.com
The top 3 reasons to play Arma 3: Anniversary Edition
Experience thrilling action combat and exciting gameplay in a massive military open world sandbox, Arma 3!
The Anniversary Edition includes the full game and Arma 3 Apex to enhance your Arma 3 experience.
Discover PC's premier military game and its limitless opportunities.
What to know before buying Arma 3: Anniversary Edition
What's included with Arma 3: Anniversary Edition?
Arma 3 base game
Arma 3 Apex
Is there any region lock for Arma 3: Anniversary Edition?
Yes, this product is only available in Europe.
How will I receive my instant download for Arma 3: Anniversary Edition?
After payment has been approved, your game key will be included in your order confirmation email. You can access your key by following a link in the email. Next, you can activate your key on its corresponding platform.
If you've pre-ordered a game, your key will be delivered to your email a day before the official (or early access) release date. You will also receive a notification via email when your key becomes available.
How to activate the key for Arma 3: Anniversary Edition
Activate with Steam:
Download and install the Steam client on your PC (https://store.steampowered.com/about/), then sign up and log in.
Locate the Steam key in your cdkeys.com confirmation email, and copy it to your clipboard by pressing "Ctrl+C".
Open the Steam client and locate the "+ ADD A GAME..." button on the bottom left of the window. Click this and choose the "Activate a Product on Steam…" option.
Paste the key from your clipboard in the "Product Code" section when asked, and follow the rest of the prompts to add the game to your library.
Your game is now viewable in the "Library" tab, and is available to download/install when you're ready!
You can find additional support for the Steam client here: https://help.steampowered.com/en/wizard/HelpWithSteam
Arma 3: Anniversary Edition details
Defeat your enemies across an open-world Mediterranean battlefield. Explore the dynamic islands of Altis and Stratis as you navigate through forests, rocky hills and dusty plains.
Experience action-packed combat across the island on foot, in vehicles or in the skies. Enjoy over 20 vehicles and over 40 weapons to customise and master.
Play as Ben Kerry across three campaign episodes; Survive, Adapt and Win. Complete scenarios, training and missions as you hone your shooting and movement skills.
Take your skills to online multiplayer modes. Play through Defend and Seize multiplayer modes or jump into unofficial game modes made by the Arma 3 community.
Create your own experiences with the all-new scenario editor and modding tools. Share your unique content on the Arma 3 Steam Workshop and discover other players' content.
Arma 3 Apex:
Explore the all-new island, Tanoa. Filled with tropical vegetation, new landmarks and landscapes, take your warfare across the island's jungles, rainforests and shanty towns.
Discover a brand new faction, Syndikat, and master their arsenal of weapons including the AKS-74U, AKM, and AK-12 Assault Rifles, LIM-85 Light Machine Gun, RPG-7 Launcher, and the PM 9 mm pistol.
NATO and CSAT utilise weapons including SPAR-16 Assault Rifle, the Chinese-designed CAR-95 family of weapons, Type 115 Assault Rifle, CMR-76 and SPAR-17 Marksman Rifles, and so much more.
Enjoy 10 brand new vehicles including Light Strike Vehicles, Unmanned Combat Aerial Vehicles and so much more.
Try the all-new 1-4 player "Apex Protocol" co-op campaign. In addition to the co-op campaign, enjoy two brand new End Game multiplayer scenarios, as well as a new singleplayer Showcase End Game scenario.
Enjoy a wide range of additional content including new character appearances, new radio protocols, new scenarios and so much more.
Want to get a free key to play Arma 3: Anniversary Edition?
Our team regularly select the best comments about the game. Make sure to share your feedback in the review tab!
What are the system requirements for Arma 3: Anniversary Edition?
MINIMUM for Arma 3: Anniversary Edition
Processor

Intel Dual-Core 2.4 GHz or AMD Dual-Core Athlon 2.5 GHz

Graphics

NVIDIA GeForce 9800GT / AMD Radeon HD 5670 / Intel HD Graphics 4000 with 512 MB VRAM

Memory

4 GB RAM

Disk space

32 GB

System

Windows 7 SP1 (64bit)

DirectX

Version 10

Sound

DirectX®-compatible on-board
RECOMMENDED for Arma 3: Anniversary Edition
Processor

Intel Core i5-4460 or AMD FX 4300 or better

Graphics

NVIDIA GeForce GTX 660 / AMD Radeon HD 7800 Series with 2 GB VRAM

Memory

6 GB RAM

Disk space

35 GB

System

Windows 7 / 8 / 10 (64bit)

DirectX

Version 11

Sound

DirectX®-compatible soundcard
Platform
PC (WW)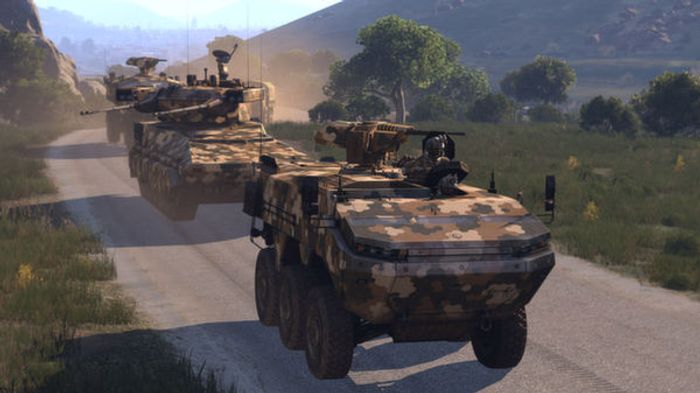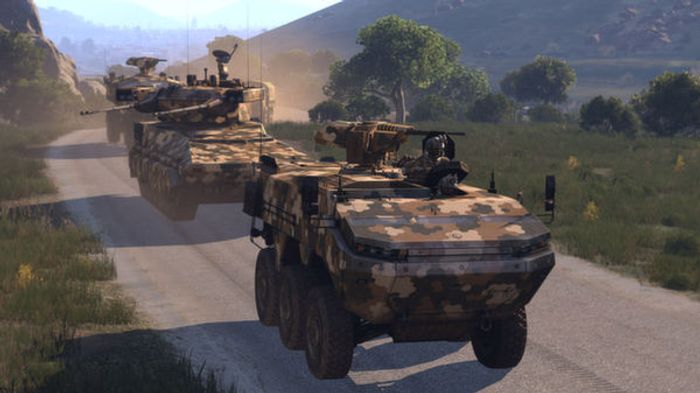 Very Good

Definitely Worth the Purchase

The Cons

Horrible server directory

Good

Best arma episode forever

The Pros

graphic,sounds,mods,addons

Cool Realistic Sim

Just like my real Friday night but more legal! Awesome!

The Pros

High Realism
Very Intricate

cool gun sim and army

shot civilians comittied war crimes then played arma 3 10/10


worth the buy

one of the best games ive played for single player realism in a simulation game, worth the buy in my honest opinion

The Pros

- alot of stuff to do
- realistic but sensible
- makes you think before acting

The Cons

- can be very demanding on your pc/laptop

Very good, very nice!

The key worked, 32gb install, game is fun and even better when you play co-op with friends. Overall, very nice!

The Pros

Very fun.
Slow paced and tactical.

The Cons

Very demanding, sometimes when there is a lot of action I get 20 fps.

Works Great.

i bought the key, and after 5min's i got an email with they Key and everything works for me fine.

Region Locked

Do not buy Arma 3 from this website if you live in the USA. It is region locked and will not work.
Activate with Steam:


Download and install the Steam client on your PC.
Open the Steam client, login and locate the Games tab on the top menu. Click this and then select "Activate a Product on Steam…"

Enter your unique code that's displayed on the 'Orders' page of CDKeys.com and follow the prompts to activate.

Your game is now viewable in the "Library" tab and is available to download/install when you're ready.
You can find additional support for the Steam client here: https://help.steampowered.com/en/wizard/HelpWithSteam
Special Price
$21.09
RRP
$63.49