Special Price
$5.09
RRP
$31.69
Limited stock available at this price!
Code Delivered To You Digitally
Platform
Steam
Delivery
Instant Delivery
Language
-24%

-76%
Get your instant download with CDKeys.com
This product includes Frostpunk.
The top 3 reasons to play Frostpunk
Frostpunk is a city builder game that's unlike any you've played before.
You're not just constructing roads and houses in Frostpunk, you're building an entirely new society.
As the leader of the last city on Earth, the survival of humanity is on your shoulders.
About Frostpunk
Frostpunk, the newest title from the creators of This War of Mine, is a society survival game where heat means life and every decision comes at a price. In an entirely frozen world, people develop steam-powered technology to oppose the overwhelming cold. You face the task of building the last city on Earth and securing the means necessary for your community to survive.
Optimization and resource management often clash with empathy and thoughtful decision-making. While city and society management will consume most of the ruler's time, at some point exploration of the outside world is necessary to understand its history and present state.
What decisions will you make to ensure the survival of your society? What will you do when pushed to the limit? And who will you become in the process?
Establish laws that regulate the existence of your growing society. Decide on their working routine, healthcare, food provision and other crucial aspects of everyday life. Maintain their hope and contentment – the moral condition of your society is as important as securing the basic means to keep them fed and safe.
If you reach a turning point, do not hesitate to determine the path of your people. Should you rule them with an iron fist... or show them a way of compassion and faith? Reach for extremes or try to find a fair balance. Whichever you choose, remember: there's no turning back.
Some of your decisions will seem small – like deciding the fate of a troubled citizen or meeting the demands of a newborn faction – but be aware that the sum of your doings can lead to unexpected results. Your people put their faith in you, but their devotion is not limitless. Leadership can be a burden.
Survival demands progress. React to current events, but don't forget about the long term and investing in development and technological progress. Providing a highly advanced infrastructure with self-powered automatons, airships, and other technical wonders is difficult, but achievable. It all depends on your management and leadership skills.
While New London is your main focus, there is much more to the world than what lies within the limits of your city. Expeditions, while risky, can bring you valuable intel, precious supplies and grow your society's population. There may be people out there, and their fate lies solely in your hands.
Frostpunk's Endless Mode is the latest, longly awaited update requested by our community. It's the biggest DLC to the game so far, offering new maps, game modes, mechanics, and it will allow you to dive into the Frostpunk experience deeper than ever before.
Read more
What are the system requirements?
MINIMUM
OS

Windows 7/8/10 64-bit

Processor

3.2 GHz Dual Core Processor

Memory

4 GB RAM

Graphics

GeForce GTX 660, Radeon R7 370 or equivalent with 2 GB of video RAM

Storage

8 GB available space
RECOMMENDED
OS

Windows 7/8/10 64-bit

Processor

3.2 GHz Quad Core Processor

Memory

8 GB RAM

Graphics

GeForce 970, Radeon RX 580 or equivalent with 4GB of video RAM

Storage

8 GB available space
Genre
City Builder, Survival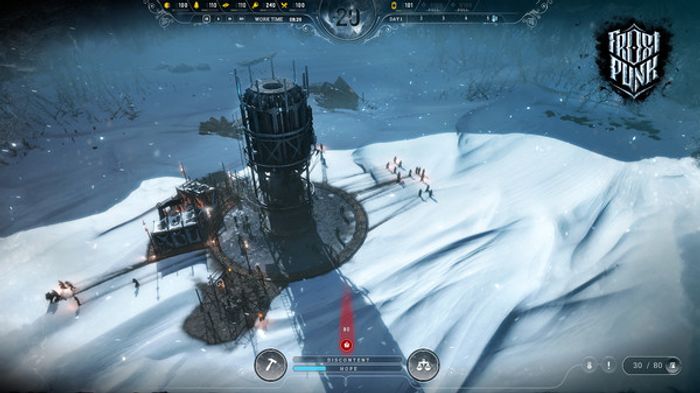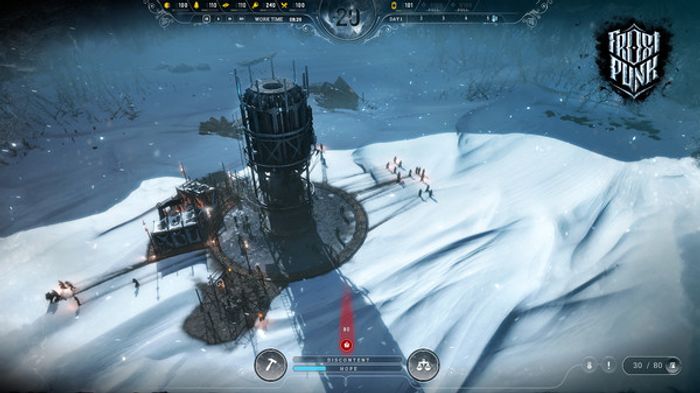 Really good game.

Thoroughly enjoyed this game.

Amazing game, but difficult.

Such an amazing game, can't wait for the second game to come out. The game is very difficult, keeping material production high yet keeping your people from getting too angry is hard, yet fun. The game is by no means easy, even on the "Easy" difficulty. Don't play if you're expecting a casual game.

The Pros

Lore, difficulty, graphics, variability of playstyles.

The Cons

Lack of variety in gamemodes

Fantastic Experience

Had an absolutely fantastic time with this game, a wonderful hybrid of survival/city builder - Can't wait for the sequel!

The Pros

Nice difficulty balance, levels & replayability

The Cons

Some of the interface can be a bit annoying

A Must Play!

If you like dark, harsh and dystopian games with a brutal and unforgiving story, then this is for you!

Addictive

Good game, well worth the current price (£4.99) graphics are decent and suit the gritty steampunk world.
Encountered a small bug where I removed a burial pit and build another in a better location but a few workers were stuck going to the original.
Fix: Build another pit, mark original pit for removal then cancel. This will make the workers re-target the pit you want.

Harsh but so fun

This game is not for the faint of hearts. No, you won't create an utopia. You'll have to get over your ethical code to ensure your city survives. But to still stand after the great storm, how satisfying it can be. The game is hard and you'll have to try and retry to get which laws are best to ensure survival.

The Pros

Hard, but in a good way. The aesthetic is amazing too

The Cons

You have to choose the laws the game wants you to choose

Time flys

You can lose a lot of time (in a fun way) while playing this one. There's a lot of fun to be had here
Activate with Steam:


Download and install the Steam client on your PC.
Open the Steam client, login and locate the Games tab on the top menu. Click this and then select "Activate a Product on Steam…"

Enter your unique code that's displayed on the 'Orders' page of CDKeys.com and follow the prompts to activate.

Your game is now viewable in the "Library" tab and is available to download/install when you're ready.
You can find additional support for the Steam client here: https://help.steampowered.com/en/wizard/HelpWithSteam
Special Price
$5.09
RRP
$31.69