Escape From Tarkov PC (Beta)
Special Price
$33.99
RRP
$50.39
Code Delivered To You Digitally
Platform
Battlestate Games Launcher
Publisher
Battle State Games
Delivery
Instant Delivery
Language
Get your instant download with CDKeys.com
This product includes Escape From Tarkov PC (Beta).
The top 3 reasons to play Escape From Tarkov PC
Escape from Tarkov is a tactical first-person shooter set in the fictional Norvinsk region of Russia, around a transition zone between Russia and Europe that serves as a gateway for trade and deals.
high-powered, scoped weapons that enable players to snipe you from afar. Getting your hands on one of these is a blessing and a curse: you are powerful, but you attract a lot of envious attention
Your job is to shoot, play and explore your way across the map until you reach your extraction point, usually way over on the other side of the city, and with plenty of excitement in between you and there!
About Escape From Tarkov PC
The premise is very simple: entering the game has your character spawning in the forest or somewhere similar, on the edge of the map.
Your job is to shoot, play and explore your way across the map until you reach your extraction point, usually way over on the other side of the city, and with plenty of excitement in between you and there!
At first, you are only armed with an axe, and you must quickly defeat someone else for their loot (unlikely if they have a gun and you don't) or get exploring and find a working gun as soon as possible.
There is no heads-up display for this game: if you want to check your inventory, you have to do it manually, for example, counting the bullets left inside your gun.
Oddly, this makes it more exciting as you become hyper aware of what you have with you at all times and counting down your shots in the middle of a battle makes you exquisitely aware of every danger lurking just around every corner.
Read more
What are the system requirements?
MINIMUM
OS

Windows 7

Processor

Dual-core 2.4 GHz (Intel Core 2 Duo, i3), 2.6 GHz (AMD Athlon, Phenom II)

Memory

6 GB

Graphics

DX9 compatible graphics card with 1 GB memory

Storage

8 GB
Genre
Action, Shooter
Platform
PC (WW)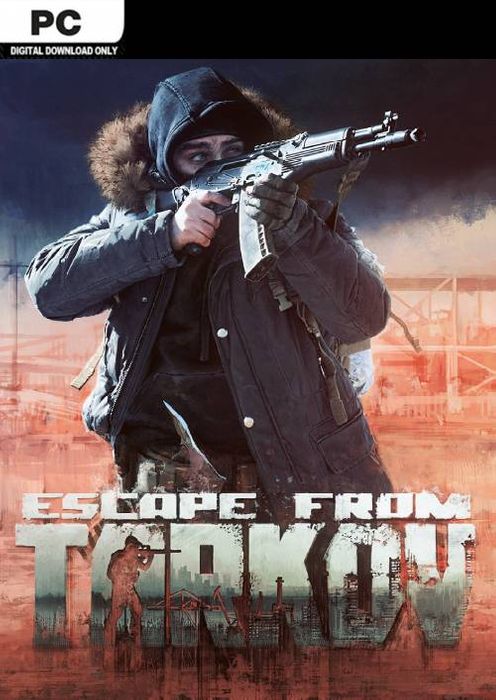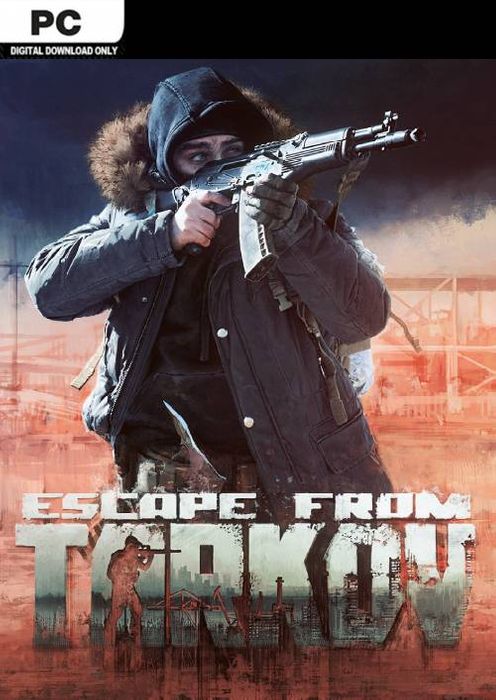 Scammed

I was literally scammed for this game, I got the CDKEY and it didn't work, but luckily the lovely people at CDKEYS quickly and efficiently replaced my CDKEY!

The Pros

The fast service and response

fast delivery and the code worked

the game is good but it needs time. I will recommend it to all people that has time to play atleast 1-1,5h

The Cons

its very slow game when you dont know how to play

Very Good Game

Very Good Service, got the key in less than 5 minutes. Intense game, but will definitely make you rage.

WOW

So this is my first review, I never in these 25years ever reviewed a game but here I am right now. 'Escape from tarkov' is undoubtedly the best game I have ever played in my whole life, it is totally underrated, it deserve more although the community it has is quite large and loyal to themselves. This game is way before it's time in terms of graphics, gameplay,audio, mechanism, everything you can imagine of, this one is not made for everyone forsure, as some new players might get fustrated of dieing and quit, but once you get to know how things work here it can become your addiction. + Every few month the game gets an update which keep things fresh and new , and FYI it's still in beta , I can only imagine what it's gonna become when it gets an official release. It teaches you a lot of things but most importantly patience, I used to fear loosing my gears when I was new but it taught me to take calculated risks in order to progress , you literally have to do a PhD in EFT if you want to be excellent in this game, the game demands time and focus on order to Master it and I love that about it. Would definitely recommend you to try and experience this game. Ggs

The Pros

Customization, Ballistics, how mad everyone gets

Dxss

It sucks when u die over and over and over and over and OVER again. Overall, bad game. Who even plays this game anymore?!

The Pros

I like how I die every. Single. Time.

Amazing if given the time.

Give the game time and patience and its one of the greatest and deepest games out there, amazing.

Hard but Rewarding

This is the third purchase for this game now lol, with my son and now mate jumping on it lol. Its not for everyone but its certainly something that shouldnt be missed. like tactical shooters? take it to the next step and we will see you on the battle field escapers :D

Not a bad game

Not bad, quite difficult to understand for the average player.

A lot of customization which is great.
Activate with Battlestate Games:

Head to: https://www.escapefromtarkov.com/
Register/Login to your account.
Under the "Profile" tab select "Activate Promo Code"




Enter your unique code that's displayed on the 'Orders' page of CDKeys.com and follow the prompts to activate.
Once the code is activated you will be prompted to install the Battlestate Games Launcher.
Special Price
$33.99
RRP
$50.39