Elden Ring - PC Steam Key
Special Price
$44.99
RRP
$62.49
Limited stock available at this price!
Code Delivered To You Digitally
Platform
Steam
Developer
FromSoftware, Inc
Publisher
BANDAI NAMCO Entertainment
Delivery
Instant Delivery
Language
Get your discounted, instant download Steam code with CDKeys.com
Buy Elden Ring Steam key for cheap, which includes:
The top 3 reasons to play Elden Ring on Steam
Unravel the mysteries of the Elden Ring's power. Encounter adversaries with profound backgrounds, characters with their own unique motivations for helping or hindering your progress, and fearsome creatures.
ELDEN RING features vast fantastical landscapes and shadowy, complex dungeons that are connected seamlessly.
Traverse the breathtaking world on foot or on horseback, alone or online with other players, and fully immerse yourself in the grassy plains, suffocating swamps, spiraling mountains, foreboding castles and other sites of grandeur on a scale never seen before in a FromSoftware title.
About Elden Ring PC - Steam
Rise, Tarnished, and be guided by grace to brandish the power of the Elden Ring and become an Elden Lord in the Lands Between. In the Lands Between ruled by Queen Marika the Eternal, the Elden Ring, the source of the Erdtree, has been shattered.
Marika's offspring, demigods all, claimed the shards of the Elden Ring known as the Great Runes, and the mad taint of their newfound strength triggered a war: The Shattering. A war that meant abandonment by the Greater Will. And now the guidance of grace will be brought to the Tarnished who were spurned by the grace of gold and exiled from the Lands Between. Ye dead who yet live, your grace long lost, follow the path to the Lands Between beyond the foggy sea to stand before the Elden Ring.
GENRE-DEFINING GAMEPLAY - Create your character in FromSoftware's refined action-RPG and define your playstyle by experimenting with a wide variety of weapons, magical abilities, and skills found throughout the world. Charge into battle, pick off enemies one-by-one using stealth, or even call upon allies for aid. Many options are at your disposal as you decide how to approach exploration and combat.
The Golden Order has been shattered. Throughout the Lands Between, Demigods holding shards of the Elden Ring squabble and make war over the ruins of a perfect realm, now abandoned by the golden guidance of the Greater Will..
As the echoes of this conflict thunder in the distance, an outcast arrives. Once, their ancestors called the Lands Between home, but the blessed light of grace was lost to their tribe long ago and they were expelled from the kingdom. They are the Tarnished, and they have returned to claim the Elden Lordship promised to them by legend.
This is the world of ELDEN RING. As a Tarnished, the Lands Between await your exploration. You will ride through the vast fields, gallop over rolling hills, and leap to the top of rocky crags on your ephemeral steed, revealing a world teeming with life and danger.
In the grand fields where your journey begins, mythic creatures prowl the veldts, ineffable horrors lurk in the bogs and marshes, and all manner of soldiers and itinerant warriors are waiting for those who wander unawares. Shy creatures nibble on sweet grasses or scuttle through the underbrush.
Those few inhabitants who are not mad or hostile linger near the broken remnants of cities left behind by the Shattering. They may have answers for you, if you help them. Above them all, ensconced in vast legacies bristling with traps, secrets, and guardians, the Demigods – warped Lords who began as members of a royal and noble family – rule their domains with the unyielding power granted by shards of the Elden Ring.
The guidance of lost graces – should you find them - will put you on a road to re-take these lands from the Demigods through might and magic, but you need not follow their path. The choice is yours. Do you crave power, or do you seek understanding? Decide for yourself, then build your character as you see fit.
Try dozens of skills and find one to best suit your style. Practice stealth to avoid danger or catch enemies unaware. Use the environment, the weather, and the time of day to gain an advantage. Learn the art of combat , where you must read your enemy's intentions and a well-timed dodge or parry could be the difference between life and death. Ride your steed into battle against mounted mercenaries and cut them from their horses.
Master arcane spells from the masters that still linger among the ruins of the war. Summon familiar spirits to even the odds against you or call on your fellow Tarnished to fight at your side and share the burden as you explore. Or, delve into the complex, bloody history of the Shattering and discover the lost secrets of the Demigods and their kin. All these paths are possible, and more.
Ultimately, your journey will be defined by the strength of your own ambition. The greater your goals, the greater the challenge will be. Should you choose to claim the Lands Between as your birthright then yes, you must fight. And yes, you may die. But you will return to fight again. For that is how a champion – or a Lord – is born.
Read more
What are the system requirements?
MINIMUM
OS

Windows 10

Processor

INTEL CORE I5-8400 or AMD RYZEN 3 3300X

Memory

12 GB RAM

Graphics

NVIDIA GEFORCE GTX 1060 3 GB or AMD RADEON RX 580 4 GB

Storage

60 GB available space
RECOMMENDED
OS

Windows 10/11

Processor

INTEL CORE I7-8700K or AMD RYZEN 5 3600X

Memory

16 GB RAM

Graphics

NVIDIA GEFORCE GTX 1070 8 GB or AMD RADEON RX VEGA 56 8 GB

Storage

60 GB available space
Genre
Action, Action RPG, Adventure, Fantasy, Open World, Story Rich
Platform
PC (EMEA)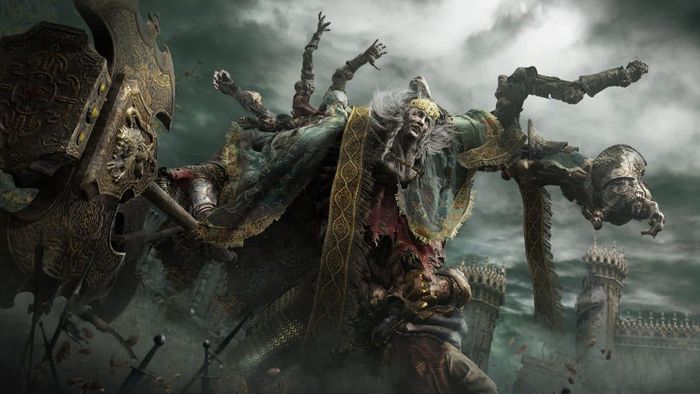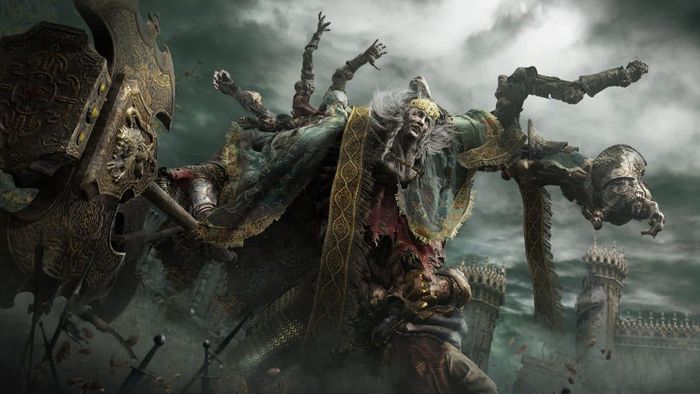 Best game I've played in a long time

This is an excellent game FromSoftware games have a very specific audience. This one will take some time to get an understanding of the story and more but once you really start getting into this game you'll be amazed by it.

The Pros

Open World
Character Builds
Story

Awesome Game

it's just a god tier game, you have to give it a try

The Pros

Everything about the game

Elden Ring. An experience you'll find only once.

Let's be honest here, today's game market is oversatured with unfinished products, micro transaction filled games and low quality series pumped out just to appease fans who have no expectations apart from "YOO A NEW ONE RELEASED OF THE SAME THING BUT DIFFERENT LAYOUT."
Ok, maybe that was a bit harsh but honestly, this game is incredible. It's finished, plans for a DLC are coming, and the open world is simply amazing. Fromsoftware have mastered the formula, from dark souls 1 to elden ring, the experience can completely alter your opinion of the game from previous experiences of the souls-borne formula.

The Pros

Open-world
Difficulty
Story
Lore
etc.

The Cons

Difficulty of BOSSES - some felt like they would input read but i should git gud.

Amazing game

Enough content in the game to last for hours and all the bosses have unique and interesting attacks.

The Pros

Lots of content
It Is difficult enough so that it's not boring and fun to learn new attack patterns

One of the best games mankind EVER created

Seriously, this has to be one of the best games ever created by humanity. There's so much to do, so much to explore, beautiful atmosphere and great combat.

OP

I love it simply its the best game i played and got it 100% trophies its amazing i love it and i love the builds in it as well

Best game <3

In my opinion it is one of best games ever. Plot in this game is extremly deep. If you are souls like player this game is for u and if you are not but looking something for chill night gameplay or so it's a good try to try on.

The Pros

good chicks like Melina or Ranni

The Cons

Too op try hards. impossible to kill on pvp

Infuriating, but fun

This game is amazing, it is really hard but once you beat something it is so fun, the game has a great story and I love playing the game with a friend.

Amazing but difficult

What can I say that hasn't already been said? Amazing game. Glorious visuals and an immersive storyline. Difficult game until you get the knack for it but a must have in anyone's collection

The Cons

Lack of instruction at the start. Could do with some more info as to what you have to do

Everything you LOVE about souls games in ONE game!

If you are a long time FromSoftware fan then you are going to LOVE Elden Ring. Everything FromSoft has learned over the years has been implemented in this game and it really elevates the experience for old and new fans! If you have never been into the Souls games because they were too difficult, this game is STILL very difficult but there are lots of resources for you to get help and defeat this game!

The stuttering issue has mostly been fixed. But even with a RTX 3080 you get frame dips. I sit at mostly 60fps but sometimes it drops to 55ish. Just turn the frame counter off and you won't even notice.

The Pros

This game has made it much easier to change your build if you don't like your stats.

The Cons

The PC performance issues are mostly fixed but they are still there.
Activate with Steam:


Download and install the Steam client on your PC.
Open the Steam client, login and locate the Games tab on the top menu. Click this and then select "Activate a Product on Steam…"

Enter your unique code that's displayed on the 'Orders' page of CDKeys.com and follow the prompts to activate.

Your game is now viewable in the "Library" tab and is available to download/install when you're ready.
You can find additional support for the Steam client here: https://help.steampowered.com/en/wizard/HelpWithSteam
Special Price
$44.99
RRP
$62.49