Assetto Corsa Competizione PC
Special Price
$17.19
RRP
$42.99
Code Delivered To You Digitally
Platform
Steam
Developer
Kunos Simulazioni
Delivery
Instant Delivery
Language
Assetto Corsa Competizione is the new official Blancpain GT Series videogame.
Thanks to the extraordinary quality of simulation, the game will allow you to experience the real atmosphere of the GT3 championship, competing against official drivers, teams, cars and circuits reproduced in-game with the highest level of accuracy ever achieved.Sprint, Endurance and Spa 24 Hours races will come to life with an incredible level of realism, in both single and multiplayer modes.
Assetto Corsa Competizione will feature Blancpain GT Series' 2018 Season, and will also include Season 2019, that will be provided as a free update during Summer 2019.
Assetto Corsa Competizione is born from KUNOS Simulazioni's long-term experience, and it takes full advantage of Unreal Engine 4 to ensure photorealistic weather conditions and graphics, night races, motion capture animations, reaching a new standard in terms of driving realism and immersion, thanks to its further improved tyre and aerodynamic models.
Designed to innovate, Assetto Corsa Competizione will be set to promote eSports, bringing players at the heart of the Blancpain GT Series and putting them behind the wheel of Ferraris, Lamborghinis, McLarens and many other prestigious GT racing cars, all reproduced with outstanding level of detail.
REALISTIC SIMULATION
Assetto Corsa Competizione is designed to faithfully recreate the performance and the driving experience of real Blancpain GT Series cars through a sophisticated mathematical model that accurately replicates tyre grip, aerodynamic impact, engine parameters, suspensions and electronics systems that determine vehicle balance, as well as the influence of mechanical damage on the car's drivability.
NEW-GENERATION GRAPHICS AND VISUAL EFFECTS
Unreal Engine 4 guarantees photorealistic rendering and an accurate representation of scenarios, car materials and weather conditions. Thanks to the multi-channel audio sampling of real GT cars, the game conveys captivating and immersive acoustic surroundings and realistic environmental effects.
CARE FOR DETAILS
Even the secondary details are faithfully reproduced to make you feel the thrill of being in the cockpit of a real racing car. Doors, windshield wipers, headlights, racing lights, racing equipment and control devices such as ABS, traction control, engine ignition and ECU mapping, are all under the driver's management to assure the best performance and offer the player total control of the car.
THE MOST ACCURATE CIRCUITS
Thanks to Laserscan technology, every official circuit is recreated with the utmost accuracy: all curbs and details perfectly fit their real counterparts to grant a gaming experience as faithful to reality as possible.
ADVANCED MULTIPLAYER FUNCTIONALITY
A well-structured ranking system will evaluate individual performance and driving behaviour to reward the most virtuous drivers and promote fair play in online competitions. The matchmaking function makes sure that you can compete with opponents of similar skill level and easily find online races to join, while the leaderboards will allow you to compare single-lap performance with drivers from all around the world with the same car, circuit and weather conditions.
IMMERSIVE SINGLE PLAYER EXPERIENCE
Career, Championship and Free Play modes offer a complete and customizable gaming experience, also thanks to the tutorials and progressive aid levels that allow you to tailor AI opponent difficulty and vehicle stability control to your abilities. The Special Events will allow you to gain a first-hand experience of the most noteworthy real-life Blancpain GT Series challenges.
HIGH-LEVEL HARDWARE COMPATIBILITY
Assetto Corsa Competizione ensures full compatibility with a wide range of peripherals from gamepads to professional steering wheels.
MOTION CAPTURE FOR REALISTIC ANIMATIONS
Motion capture technology is used to create the animations of mechanics and drivers in an even more realistic fashion, and guarantee a high level of player engagement during races, pit stops and driver changes.
BLANCPAIN GT SERIES
Encouraged by the success of the Blancpain Endurance Series, which after its creation in 2011 quickly became the global reference for GT racing, world-renowned Swiss watch manufacturer Blancpain and the SRO Motorsports Group decided at the end of 2013 to extend their partnership to the Blancpain Sprint Series. From 2015, teams and drivers were also given the opportunity to compete for an overall Blancpain GT Series title. Varied grids were the result, with a host of respected GT teams and drivers at the start of each race. The Blancpain GT Series also saw an influx of young and talented drivers, making it a worldwide benchmark in GT3 racing.
With both the Blancpain GT Series Sprint Cup and Blancpain GT Series Endurance Cup now sharing the same driver categories and points system, the ten-round Blancpain GT Series season – comprising five sprint events and five endurance events – crowns the world's most complete GT drivers.
A Blancpain GT Series Sprint Cup event consists of two races of one hour each, while the Blancpain GT Series Endurance Cup races range from three-hour events through a 1000 km race to the season highlight of the Total 24 Hours of Spa, one of the world's leading 24-hour races.
---
System Requirements:
Requires a 64-bit processor and operating system

OS:

Windows 7 64-bit Service Pack 1

Processor:

Intel Core i5-4460 or AMD FX-8120

Memory:

4 GB RAM

Graphics:

GeForce GTX 460 2GB, Radeon HD 7770

DirectX:

Version 11

Storage:

50 GB available space

Sound Card:

Integrated
Genre
Racing, Simulation, Sports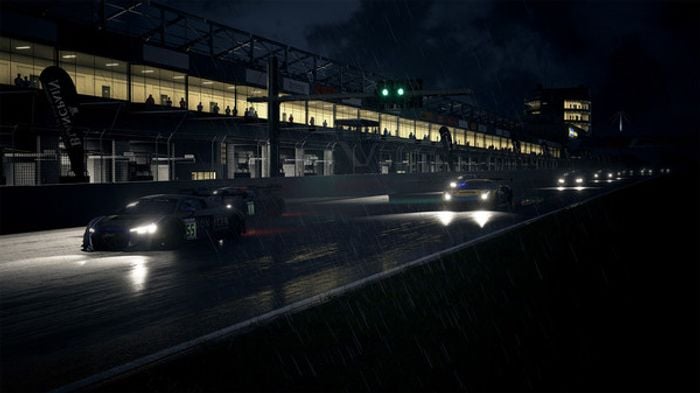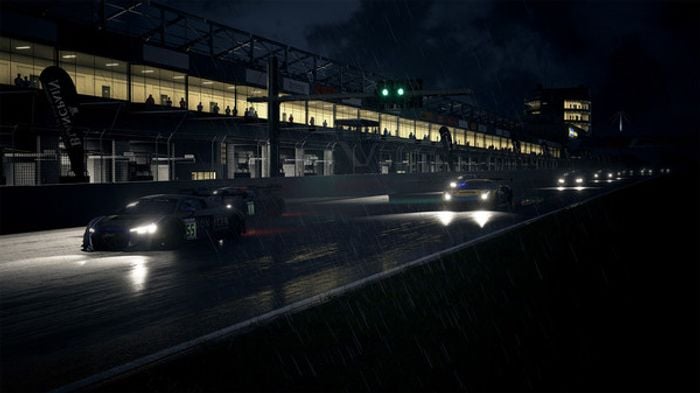 ACC

Great sim, controller players it is very hard to be as quick as others but very fun game for the racers

One of the best GT sims out there

The game is always under 10 GBP and unless you want to spend 2k+ on Iracing this is the next best thing. If you have a sim rig you have to give this game a go!

The Pros

Very Sim friendly
Cheap
Fun
FAST

The Cons

There is DLC but you don't really need it
Only need DLC if racing online!

GOOD GAME

Very fun. I have a racing rig and a full setup for it so this game is incredibly immersive, it's great fun and genuinely makes you feel immersed with the realism, perfect for any sim lover

Great Sim

A really fun and immersive sim, especially when paired with a decent sim rig. Would definitely recommend to anyone that's remotely interested in racing games.

Sim heaven!

Very fun. I have a racing rig and a full setup for it so this game is incredibly immersive, it's great fun and genuinely makes you feel immersed with the realism, perfect for any sim lover

Amazing

A beautiful game in every aspect. Good handling and fun to play.
you can create your own races with the desired weather conditions and train for hours. It doesn't get boring.
I'm not sure about online play at this point. It seems hard finding players.

The Cons

It took me a while to configure controls

Assetto Corsa Competizione

This is a very realistic racing game. In all weather conditions you have to pay attention to what you are doing and how quickly you can push back on the accelerator. It is a racing game where a lot of people play online as well. It is recommended!

The Pros

The realistic gameplay
The online duels with online players

The Cons

It takes a while to get everything under control but thats not really negative

game

Very decent game with good graphics. Would totally recommend it to my friend. Worth every single penny.

Really good sim

Very realistic and enjoyable racing game

Bought for friend

Bought this for a friend that is fully into sim racing games, he absolutely loves it. Says he recommends it to any sim racing enthusiast.
Activate with Steam:


Download and install the Steam client on your PC.
Open the Steam client, login and locate the Games tab on the top menu. Click this and then select "Activate a Product on Steam…"

Enter your unique code that's displayed on the 'Orders' page of CDKeys.com and follow the prompts to activate.

Your game is now viewable in the "Library" tab and is available to download/install when you're ready.
You can find additional support for the Steam client here: https://help.steampowered.com/en/wizard/HelpWithSteam
Special Price
$17.19
RRP
$42.99