New Super Mario Bros + New Super Luigi Wii U - Game Code (EU & UK)
New Super Mario Bros + New Super Luigi Wii U - Game Code (EU & UK)
Code Delivered To You Digitally
Platform
Nintendo
Language
New Super Mario Bros. U
With an all new way to play, New Super Mario Bros. U brings back classic characters like Mario, Luigi and Toad, but brings in a new character to join in the platform fun – you! Use your Mii character to tear through this latest 2D side-scrolling Mario adventure, with a giant world map packed with new courses and challenges, the likes of which are only possible on Wii U.
New Super Mario Bros. U makes full use of the capabilities of the Wii U console, by using the Wii U GamePad to increase the options for both solo and multiplayer gaming. If your main screen is in use, use the GamePad to continue the action by yourself or, if you want to team up with friends, things get even more exciting. Up to four players with Wii Remote controllers can run, jump and bounce through these all-new stages, or add a fifth player with the GamePad to play in Boost Mode. Here, the GamePad player can tap the screen to place platforms on the screen to help with the challenge. This adds an incredible new facet to the classic Mario gameplay we know and love, with players all working together to clear a course. There are times where this co-operation is essential if you want to take specific routes or set new scores and times.
Those who buy New Super Mario Bros. U to experience classic Mario action won't be disappointed, as you can expect all the usual platform action with new features and challenges thrown in too. Transform into Flying Squirrel Mario in order to swoop through different levels by clinging to walls, or get to grips with Balloon Baby Yoshi if you want to float gracefully through the air. There are various types of coloured Yoshis out there, as well as all new power-ups, that will give you fresh ways to traverse the perils and platforms of the Mushroom Kingdom. When it comes to gameplay modes, there are all sorts of ways to stretch your skills. Boost Rush mode lets you power through automatically scrolling levels which speed up as you collect coins. Here, up to five players can work together to get through the course as quickly as possible – then sit back and watch the replay to see how you can tighten up that time on your next attempt!
If you want to get a bit more competitive, why not race to grab coins and power-ups while avoiding the bothersome blocks and obstacles being placed in your way by the person controlling the GamePad! Or why not try the Challenge Mode to really test your skills? You can play in Time Attack and set a record for others to tackle, take a shot at 1-Up Rally and much more. As you can do these in solo or multiplayer mode, there are even more ways to set scores and unlock further challenges. You can even take part in Boost Mode Challenges, which can be replayed after you've completed them, to make you more effective in Boost Mode! Coin Battle mode, on the other hand, lets two to four players battle as individuals or join together as teams to grab coins. Additional players can use the Boost Mode option to either favour or foil players, making it a new experience every time.
Take the game to the online world by using the Miiverse to share any of your accomplishments via the Nintendo Network, or alternatively, warn or advise others on the best way to overcome the more difficult moments of the game as they play.
New Super Luigi. U
New Super Luigi U is a platforming game featuring Luigi!
82 New Courses
While New Super Luigi U's basic systems are the same as New Super Mario Bros. U, the 82 courses on the World Map have been replaced with brand new ones for Luigi! A whole host of challenging levels await! You've only got 100 seconds to clear each course, and the clock is ticking! It's going to be one super-speedy adventure for Luigi.
Luigi's Gameplay
Luigi can jump higher than Mario and has much more momentum. These differences make for a totally unique style of play, which is sure to become clear as soon as you start to guide Luigi around the game's courses!
Play as Nabbit!
Nabbit, our old friend from New Super Mario Bros. U, can now be selected as a player character in New Super Luigi U's co-operative multiplayer. While Nabbit can't use power-ups, he also doesn't take any damage if he bumps into enemies. As such, he's an ideal character for anyone who finds action games tricky.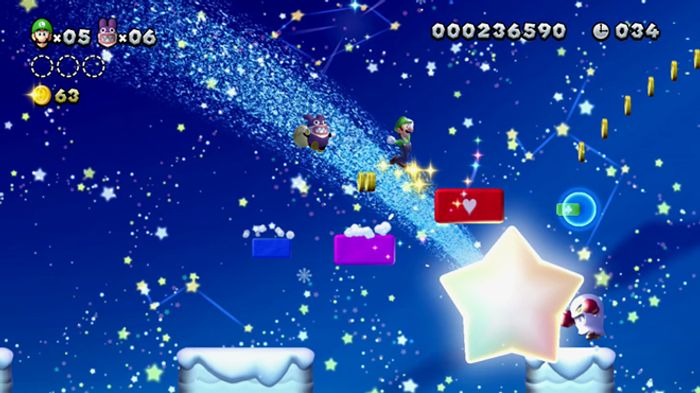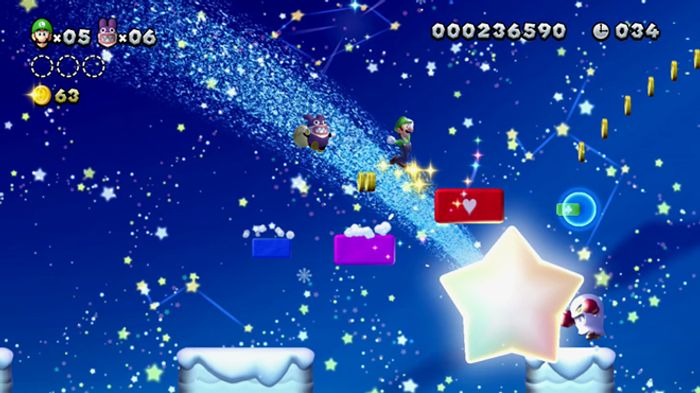 Instructions on redeeming a software download code in Nintendo eShop for Nintendo Switch.
Additional Information:
An internet connection and Nintendo Account are required to access Nintendo eShop for Nintendo Switch.
For assistance with redeeming a code for a Nintendo Switch Online membership, click here.
Complete These Steps:
Select "Nintendo eShop" on the HOME Menu to launch Nintendo eShop.
Select the account you want to use.
Select "Redeem Code" on the left side of the screen.
Enter the 16-character download code.

Some retailer cards for Nintendo Switch software will include both a Control Number and a Download Code. Make sure that you are entering the Download Code (usually begins with a B, no hyphens in the number) and not the Control Number (usually begins with an S, has hyphens).
Any letters and symbols not used with prepaid codes (i.e. O, I, Z, commas, hyphens, etc.) will be disabled from the on-screen keyboard.

Select "Confirm". The software will begin downloading once the code is confirmed.

The software icon will appear on the HOME Menu, with a download status bar. The status bar will disappear once the game download is complete.