Special Price
$4.19
RRP
$18.99
Limited stock available at this price!
Code Delivered To You Digitally
Platform
Steam
Delivery
Instant Delivery
Language
ABOUT THE GAME
Developed by id software, the studio that pioneered the first-person shooter genre and created multiplayer Deathmatch, DOOM returns as a brutally fun and challenging modern-day shooter experience. Relentless demons, impossibly destructive guns, and fast, fluid movement provide the foundation for intense, first-person combat – whether you're obliterating demon hordes through the depths of Hell in the single-player campaign, or competing against your friends in numerous multiplayer modes. Expand your gameplay experience using DOOM SnapMap game editor to easily create, play, and share your content with the world.
You've come here for a reason. The Union Aerospace Corporation's massive research facility on Mars is overwhelmed by fierce and powerful demons, and only one person stands between their world and ours. As the lone DOOM Marine, you've been activated to do one thing – kill them all.
FEATURES
A Relentless Campaign
There is no taking cover or stopping to regenerate health as you beat back Hell's raging demon hordes. Combine your arsenal of futuristic and iconic guns, upgrades, movement and an advanced melee system to knock-down, slash, stomp, crush, and blow apart demons in creative and violent ways.


Return of id Multiplayer
Dominate your opponents in DOOM's signature, fast-paced arena-style combat. In both classic and all-new game modes, annihilate your enemies utilizing your personal blend of skill, powerful weapons, vertical movement, and unique power-ups that allow you to play as a demon.


Endless Possibilities
DOOM SnapMap – a powerful, but easy-to-use game and level editor – allows for limitless gameplay experiences on every platform. Without any previous experience or special expertise, any player can quickly and easily snap together and visually customize maps, add pre-defined or completely custom gameplay, and even edit game logic to create new modes. Instantly play your creation, share it with a friend, or make it available to players around the world – all in-game with the push of a button.
What are the system requirements?
MINIMUM
OS

Windows 7/8.1/10

Processor

Intel Core i5-2400/AMD FX-8320 or better

Memory

8 GB RAM

Graphics

NVIDIA GTX 670 2GB/AMD Radeon HD 7870 2GB or better

Storage

55 GB available space
RECOMMENDED
OS

Windows 7/8.1/10 (64-bit versions)

Processor

Intel Core i7-3770/AMD FX-8350 or better

Memory

8 GB RAM

Graphics

NVIDIA GTX 970 4GB/AMD Radeon R9 290 4GB or better

Storage

55 GB available space
Genre
Action, FPS, Sci-fi, Shooter
Platform
PC (WW)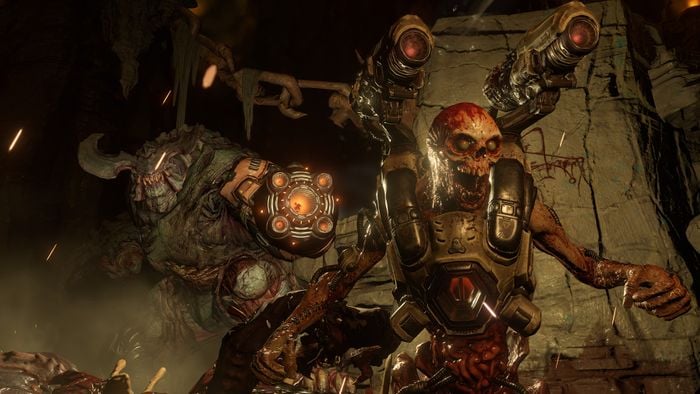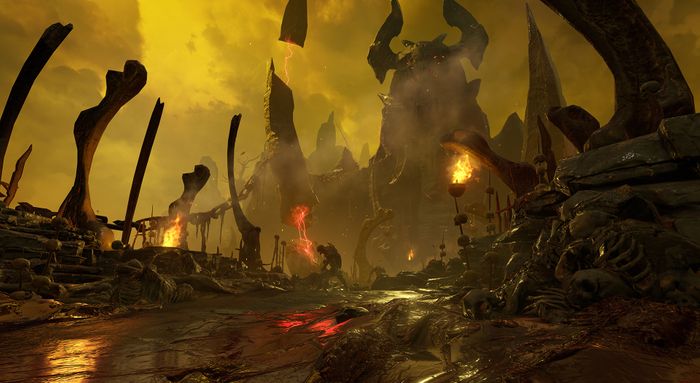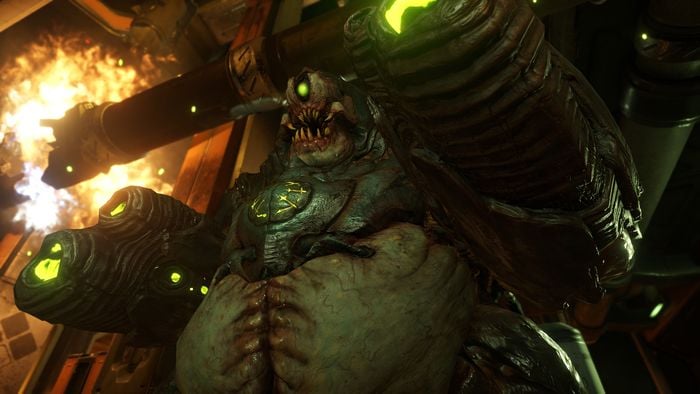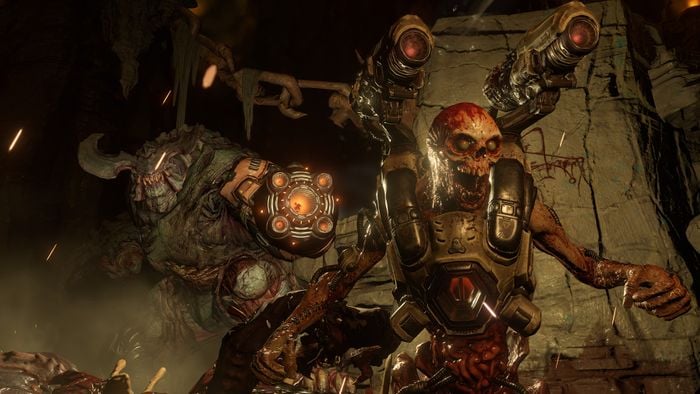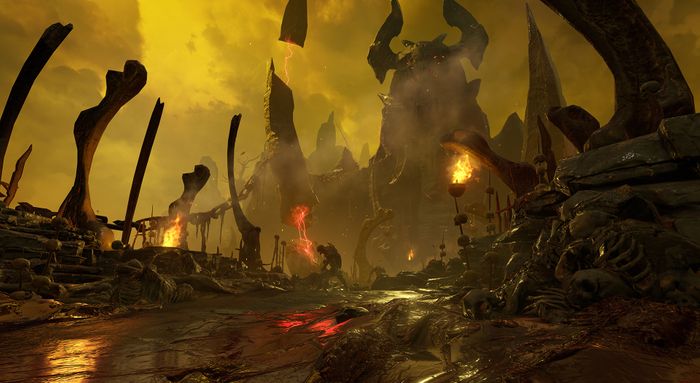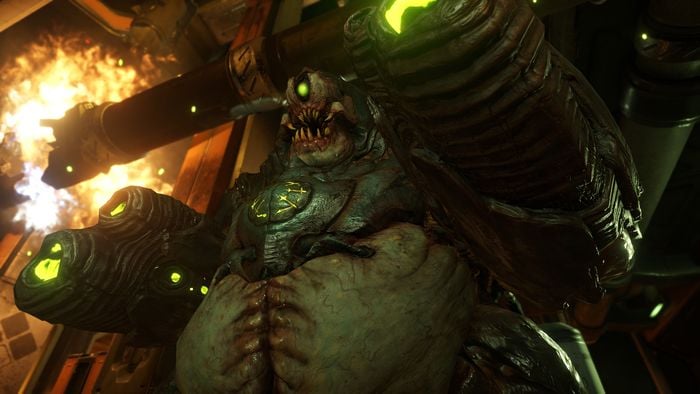 The Crucible of Modern FPS Games

This cannot be overStATED ENOUGH... If you like fun try this game out you will not be disappointed!!

Rip and Buy

Is one of the best games, can be repetitive, but who can't like to repeat rip and tear until is done and repeat?

The Pros

Controls
Graphics
Mechanics

The Cons

Bit repetive
Feels boring without killing enemies

Action-Packed Game

A fantastic game with lots of action. Will always keep you on your toes. The music is brilliant but fighting hordes of enemies can get repetitive at times. Overall, a great cop for 5 pounds.

The Pros

Action-packed
Brilliant music

The Cons

Can be repetitive at times

Doom the Demonslayer

One word BADASS!!! Classic FPS! Great for releasing ANGER. Rip Demons new one's in many ways! If you like blood & violence this is for you!

The Pros

Instant delivery, Great Service again

BEST Christian Game

My Second purchase in cdkeys, the game is amazing, classic fps gunplay with a nice sountrack.
BFG Division > Rip and Tear


The Pros

Soundtrack => 10Gameplay => 10Graphics => 10Story => ?¿

Best Democrat Slaying Sim

The first game I ever bought off CDK. Great game, key worked as intended. Even if you're late to the party, this is still a quality title in '21.

The Pros

What's not to like? It's DOOM!

DOOM

Low price, good game and the key worked as intended.


DOOM

Ah the classic doom games you'll have fun if you wanna try old school shooters and you'll never get bored with the amount of mods for Doom and Doom II also the bonus levels with it

get it its dirt cheap and your best experience

its doom what else do you want to know? one of the best shooters ever made you'll have alot of fun killing demon scum

perfect

For role-playing game fans it's only once in a blue moon a title comes along that's so engrossing you'll willingly surrender not just a little bit of time to play it, but days and weeks of your life. The Witcher 3: Wild Hunt is a prime example; a captivating game that, for our money, is the best RPG since Skyrim.

But, if anything, it's a little bit more grown-up than that 2011 Bethesda epic. There's a lot more f-ing and blinding for starters, the occasional c-bomb included. And much more blood. Oh, and let's not forget the smattering of nudity. Yep, Witcher 3's adult themes are quickly established from the moment the camera lingers on a bare derrière mere minutes into the game. Yet - and despite that reading like an apparent Hollywood "sex, blood, swearing, - buy, buy, buy!" kind of campaign - it's not gratuitous, rather more representative of a believable world. Y'know, one where mages and magic are a normality.

It's also a timely release. With millions of Game of Thrones fans the world over, there are inevitable comparisons - c'mon, even Charles Dance, voice of Tywin Lannister in Game of Thrones, voices Emperor Emhyr var Emreis here - despite Andrzej Sapkowski's short stories preceding those of George RR Martin.

But whether you're an existing fan, a newcomer, or someone who's looking to replay the game on Nintendo Switch (that's why we're updating this review), the swordplay, magic, monsters and fire gods certainly make for damn good entertainment. So, attention grabbed, nipples acknowledged, we've spent dozens of hours delving into The Witcher 3: Wild Hunt's world, exploring its decision-based storyline, side missions and sprawling landscapes. Here's why, whether you're a fantasy fan or not, it's still a stone cold classic of RPGs.
Activate with Steam:


Download and install the Steam client on your PC.
Open the Steam client, login and locate the Games tab on the top menu. Click this and then select "Activate a Product on Steam…"

Enter your unique code that's displayed on the 'Orders' page of CDKeys.com and follow the prompts to activate.

Your game is now viewable in the "Library" tab and is available to download/install when you're ready.
You can find additional support for the Steam client here: https://help.steampowered.com/en/wizard/HelpWithSteam
Special Price
$4.19
RRP
$18.99