Special Price
$44.29
RRP
$69.79
Code Delivered To You Digitally
Platform
Steam
Language
Get your instant download with CDKeys.com
This product includes Atomic Heart PC.
The top 3 reasons to play Atomic Heart PC
Unfold the secrets, restore peace and order, and show the Motherland what you got!
Powered by Unreal Engine 4 the game takes full advantage of the latest and the most powerful features of cutting-edge technology.
Atomic Heart supports Ray Trace technology that brings real-time, cinematic-quality rendering and provides realistic lighting and shadows by simulating the physical behavior of light.
About Atomic Heart PC
Atomic Heart is an action RPG with FPS elements set in the alternate version of the USSR .
Technological revolution powered by Communism has already happened: robots, the Internet, holograms and other futuristic stuff make everyday life of the Soviet citizens better & brighter.
These great technological advances are made at special facilities placed all over the country.
Recently one of such temples of science, The Facility 3826, went dark. As a KGB Officer you are going in to find out what happened there and to restore order no matter the cost…
The world of Atomic Heart consists of several regions with different biomes. On the surface and under the ground you will meet exotic mechanical creatures designed to serve the needs of people, for some reason turned into combat-ready killing machines.
Read more
What are the system requirements?
MINIMUM
OS

Windows 10 (20H1 version or newer, 64-bit versions)

Processor

AMD Ryzen 5 [email protected] 3. GHz or Intel Core i5-4460 @ 3.1 GHz (AVX, AVX2 and SSE 4.2 support required)

Memory

8 GB RAM

Graphics

AMD Radeon R9 380 (4 GB) or NVIDIA GeForce GTX 960 (4 GB)

Storage

90 GB available space
RECOMMENDED
OS

Windows 10 (20H1 version or newer, 64-bit versions)

Processor

AMD Ryzen 7 2700X @ 3.8 GHz or Intel Core i7-7700 @ 3.6 GHz (AVX, AVX2 and SSE 4.2 support required)

Memory

16 GB RAM

Graphics

AMD RX Vega 64 (8 GB) or NVIDIA GeForce GTX 1080 (8 GB)

Storage

90 GB available space
Genre
Action, Adventure
Platform
PC (WW)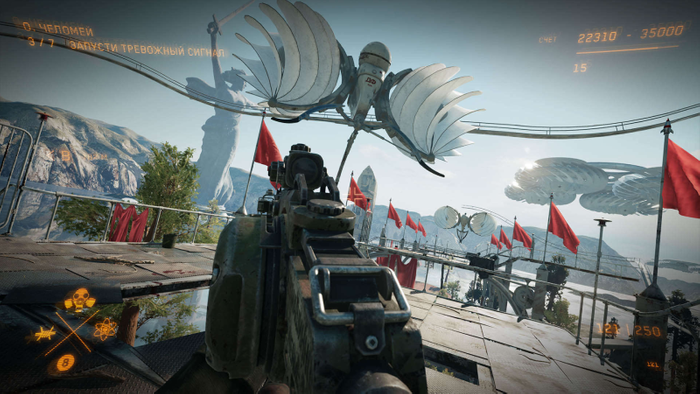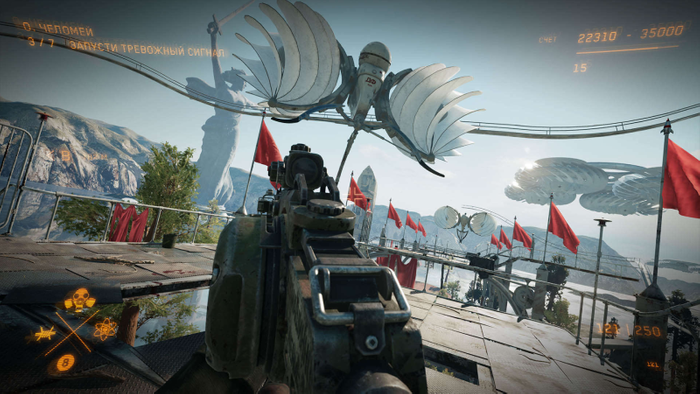 Wow

Wow. Nothing more. I did not expect this kind of perfection and cure of the game. Awesome.

Bioshock friends

Very fun game, so much to look at, awesome art design and world. Really nice feeling combat

The Pros

Graphics
Sound design
Art design
World design
Chunky feel melee combat
Atmophere
Enemy/Boss design

The Cons

Movement feels strange
Too many invisable walls
Not many interacterble objects
Restrictive missions

Love the gameplay style and the gun fights

this game is very fun and the story is amazing!

The Twin is Goddess

I save all scenes with the TWIN robots so good and worth my money if that rumor is true it will ever greater

Suprised

I had high hopes for this game but also learned my lesson from Cyberpunk 2077. This game reminds me of the time Techland released Dying light as its first independent game. It had its problems, but they made a solid game with 5 years of fixes and seasonal content. This game reminds me of that time.

The Pros

Soundtrack
Visuals
Combat

Bioshock Russia stile

Phenomenal SP game in Bioshock stile

The Cons

sometime crash to desktop

Artwork from a game

This game was made with so much love and delights with its offbeat worlds. I can only recommend the game to everyone.

The Pros

The graphic, the game mechanics,
the atmosphere
Activate with Steam:


Download and install the Steam client on your PC.
Open the Steam client, login and locate the Games tab on the top menu. Click this and then select "Activate a Product on Steam…"

Enter your unique code that's displayed on the 'Orders' page of CDKeys.com and follow the prompts to activate.

Your game is now viewable in the "Library" tab and is available to download/install when you're ready.
You can find additional support for the Steam client here: https://help.steampowered.com/en/wizard/HelpWithSteam
Special Price
$44.29
RRP
$69.79